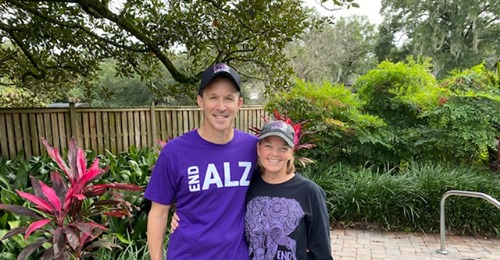 "I thank God for the gift of TODAY – CARPE DIEM!" ~Dan Jaworski
When Dan Jaworski received a devastating diagnosis and a recommendation from his doctor to move forward on his bucket list, he knew what he needed to do.
"Within hours of my diagnosis, I contacted Sarah Hartmann at The IRONMAN Foundation. I am so grateful for this amazing opportunity to race Kona on October 9, 2021"
The month of June is Alzheimer's and Brain Awareness Month.
You can read more about Dan and his inspirational story here. His attitude of resilience and strength is the same "Carpe Diem spirit" that I saw in my friend Craig Dunham when he was faced with an ALS Diagnosis. It's the reason I started CarpeDiemDay.com.
Rather than ask for money, Dan asked for 140 names – one for each of the 140.6 miles of the race – of others who are battling Alzheimer's and related diseases.
His list of 140 names, along with notes and tributes are listed on his site. And despite not asking for money, he has currently raised over $70K in donations for the Alzheimer's Association.
Gratefully, I don't currently know anyone personally suffering from Alzheimer's, but I certainly understand the devastation and fear most people would have in the face of such a diagnosis.
Dan's optimistic attitude, his drive, tenacity, and resilient spirit will most certainly work in his favor in the coming months, both in his training and in his overall health.
Let's follow his lead! Whether it's participating in an Ironman, writing a book, or repairing a relationship, don't wait. Follow your dreams.
Carpe Diem!
Please follow and like us: