I admit I'm a nerd.. a dork.. a geek. I love theme parties and scavenger hunts and doing quirky things. Example: I've created an Yvette Club.
This isn't really a unique idea. I've read about other clubs where everyone has their own name. I always thought it would be fun to have Yvette Yvents!
The word "event" has been one of the mnemonics I give people to remember and know how to pronounce my name: "It's just like "Event" without the 'n' sound," I tell them. (Unfortunately, Yvette is a name which most people have trouble with spelling and pronouncing because of that troublesome Y-starter.)
Despite the name being relatively uncommon, there was a Pinterest group for Yvette's from which I took this screenshot: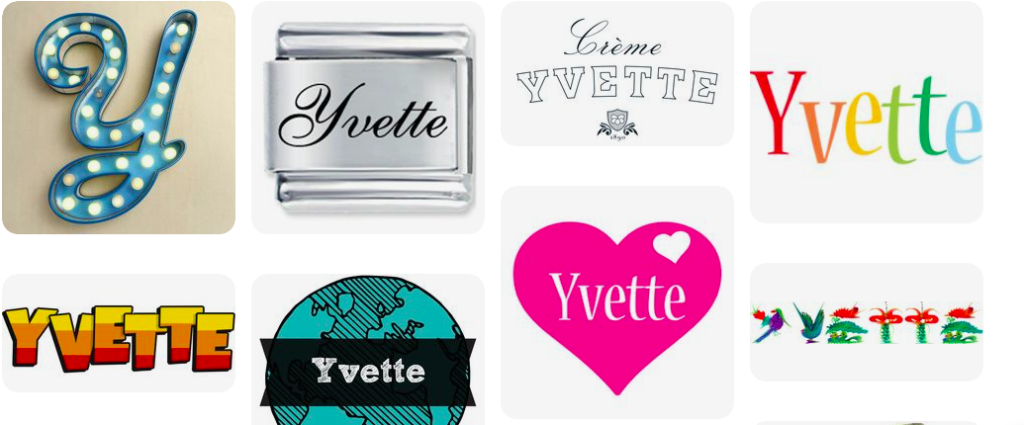 There are plenty more "Yvette" graphics where that came from. I love that we have apps these days that let us customize our names into beautiful art or logos.
Whenever I go into a souvenir shop and look at all those named-keychains, I never find the name "Yvette." However, recently the name did appear on my favorite eCard app, Blue Mountain, an app that lets you customize your eCards with personal names and more. (I'm really amazed at the technology where celebrities really look like they're singing/saying the specified names!)
(I'm still trying to figure out how I can embed the video on this blog, but I just love this eCard!)
So.. I created the Facebook group and now, I thought, with my vast social media presence, it should be easy to invite a bunch of Yvettes from around the world to join!
Combining with a different goal I have to visit each state, I decided to see if I could find and personally get to know an Yvette from each state.
I started with Alabama and was very happy to find that when I googled "Yvette Alabama" there were plenty of options! Similarly, I went to LinkedIn and found all kinds of Alabama-based Yvettes! It turns out Yvette is a more popular name than even I imagined! Easy peasy! My new club would be populated in no time!
I promptly sent invitations to about 10 Alabama Yvette's excited that my new club would soon have members who could tell me all about the best places to visit in Alabama… of course, I assumed I would become good friends with each Yvette… we share the same somewhat unusual name, after all.
I kept checking for a return emails or new members in the group. Finally, today, I got one! It was basically a "Thanks, but I'm not interested" email. Oh dear. I guess not all Yvettes are quirky dorks that get excited about a same-name club.
Maybe the problem is that with the advent of social media and Meetups there are an overabundance of groups and so the idea of a same-name group has become passé.
I'm not giving up yet, though! Scavenger hunts are a challenge and I've just started! I know I have future Yvette friends out there. We just haven't met yet!
Please follow and like us: