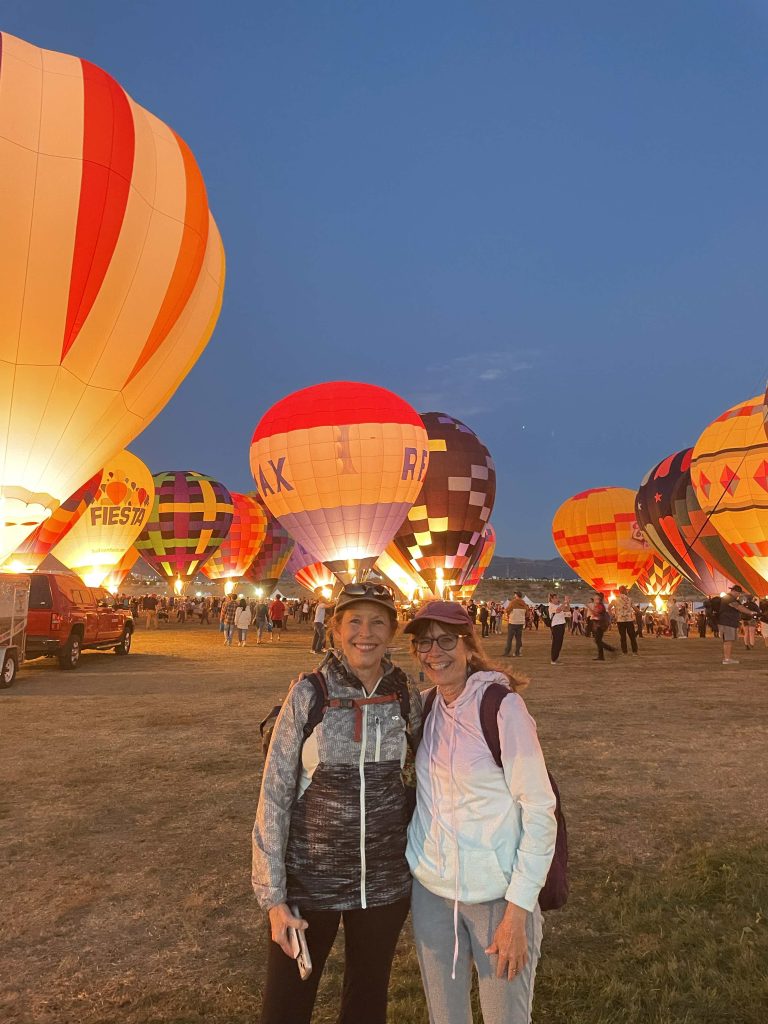 I'm way overdue on this blog post. There are some adventures that I know a blog post can't properly describe. My photos and writing just aren't skilled enough to capture the beauty of the unique experience! This is one of those adventures.
The Albuquerque Balloon Festival has been on my bucket list for awhile. In fact, it was the only item (#32) on my original 60 until 60 list that I didn't accomplish. (Instead I substituted walking 2019 miles in 2019).
Any good adventure is not just about the experience, it's also about who you go with! So, when one of my favorite girlfriends, Sonja, asked if I'd want to go to the Balloon Festival, I jumped on the opportunity! Heck, yeah!
Morning Ascent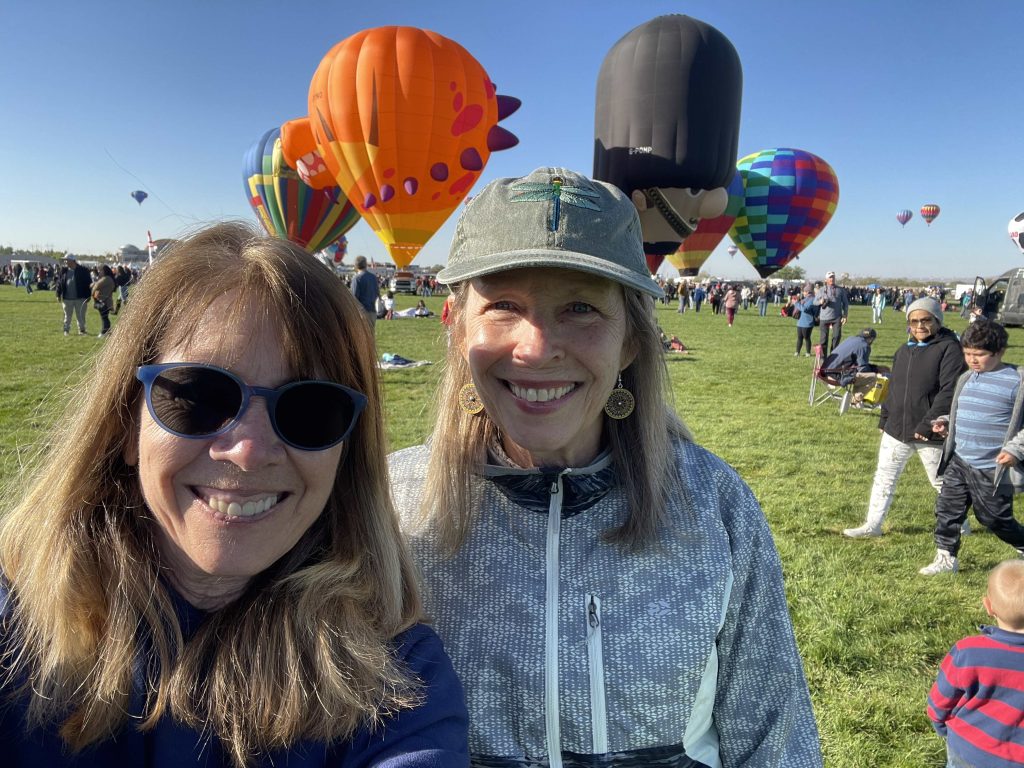 Being newbies, we were both a bit unsure of the logistics. We made the 7-hour drive without a problem and rose at 4:30am in order to catch the shuttle for the sunrise ascent.
I'd read that we didn't need to get admission tickets ahead of time, but it turned out the shuttle tickets were sold out and we were stuck in traffic at sunrise. Boo.
Despite this disappointment, when we did finally did make it to the park, the weather was clear and the balloons were plentiful.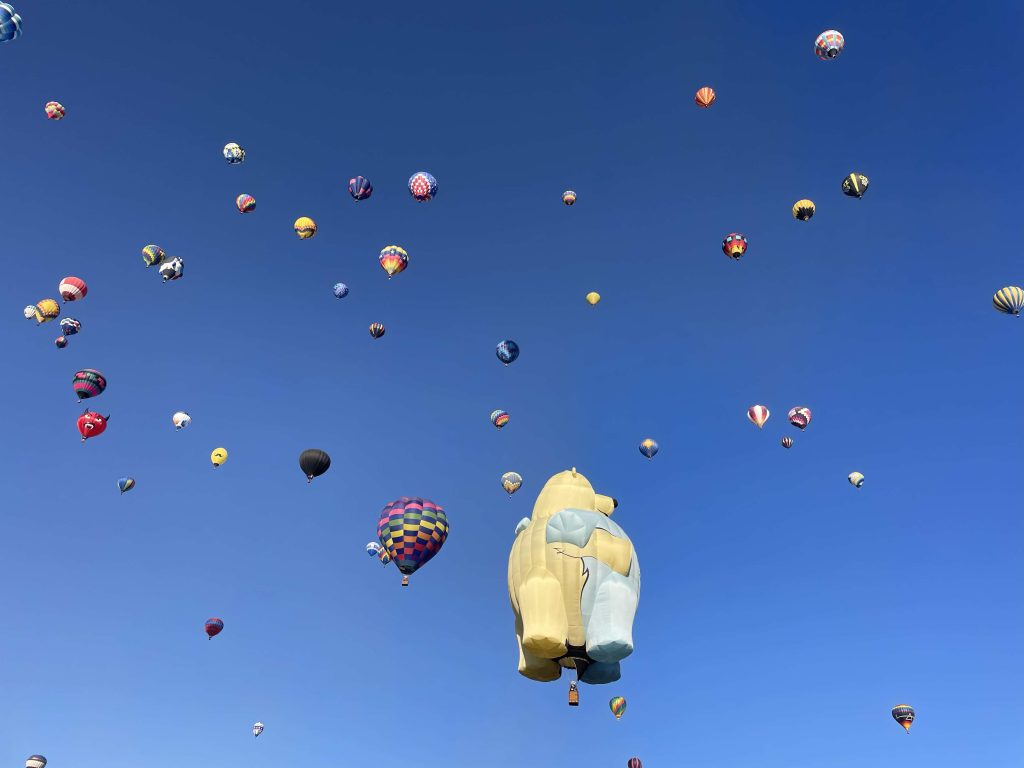 There was such a huge variety of balloons and it really was magnificent to see so many fill the sky all at once!
Old Town Albuquerque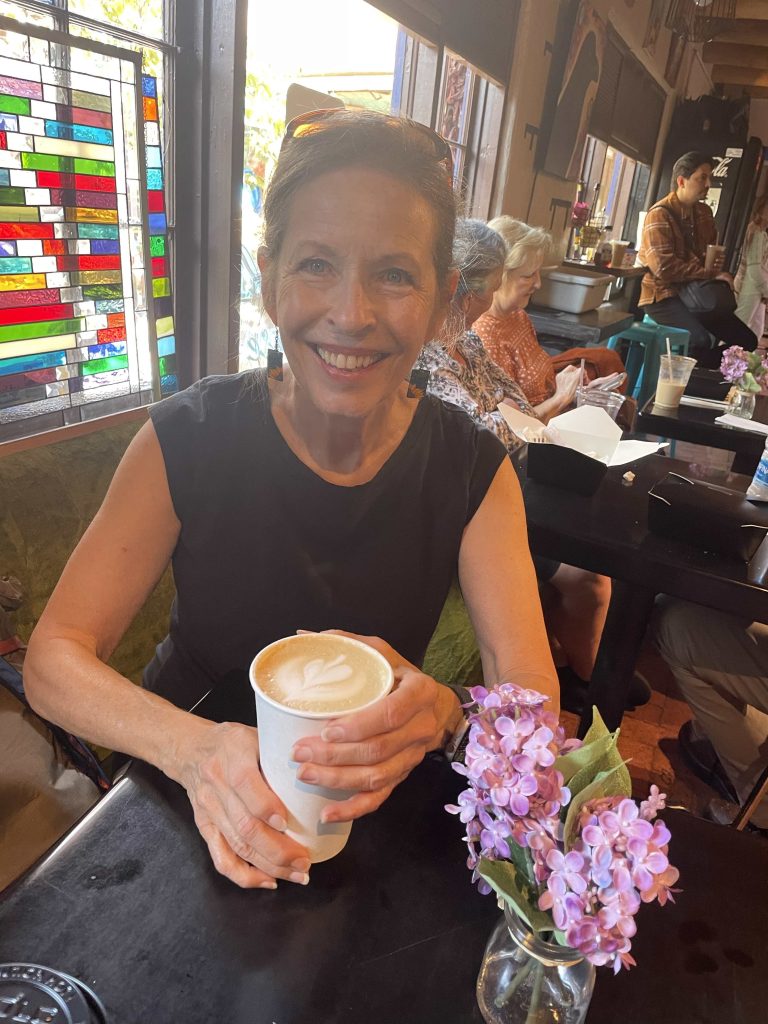 I was able to use my new Home Exchange Membership to get us a fabulous house for our 3-night Albuquerque stay. The house was beautiful, unique, and full of custom woodwork. It also turned out to be walking distance to Old Town, Albuquerque!
There were many fun and colorful shops full of whimsical items on display, including a "Seize the Day" mirror!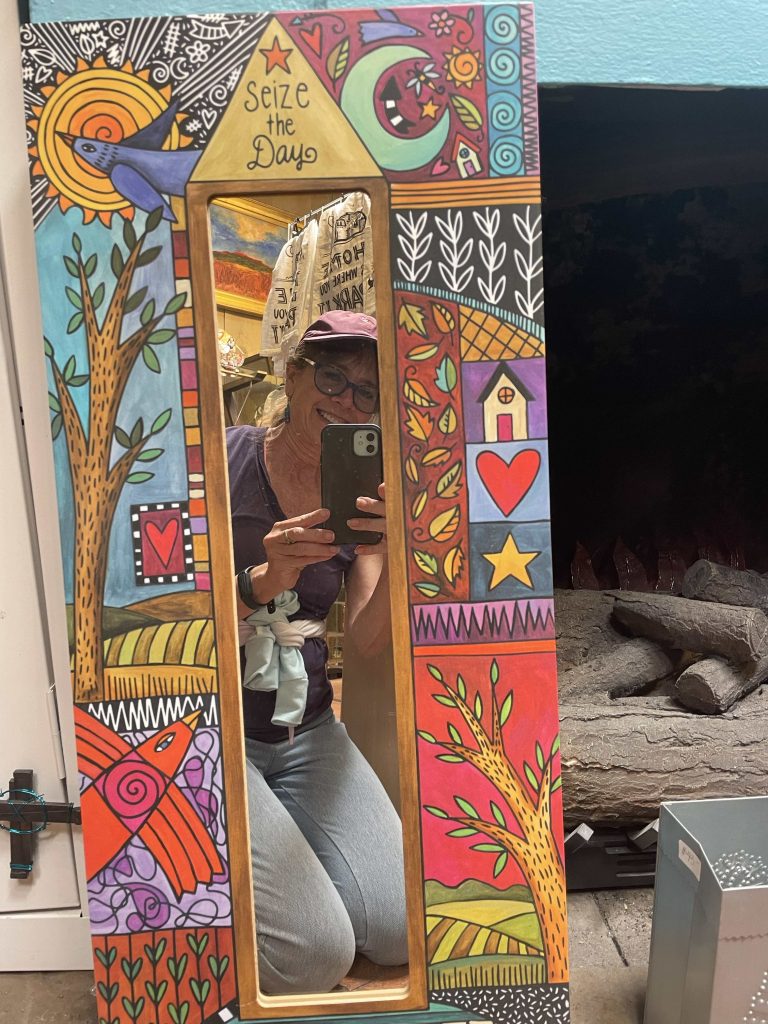 The town square was full of people dancing and enjoying music. One of my favorite memories from the trip is when Sonja and I danced and sang while the band played Van Morrison's Brown Eyed Girl.
If you look at our ears in this video, you'll see Sonja had bought us both some really perfect earrings! Hers had sunflowers and mine were my carpe diem colors of purple and turquoise. I love them and they'll always remind me of this trip!
Evening Balloon Glow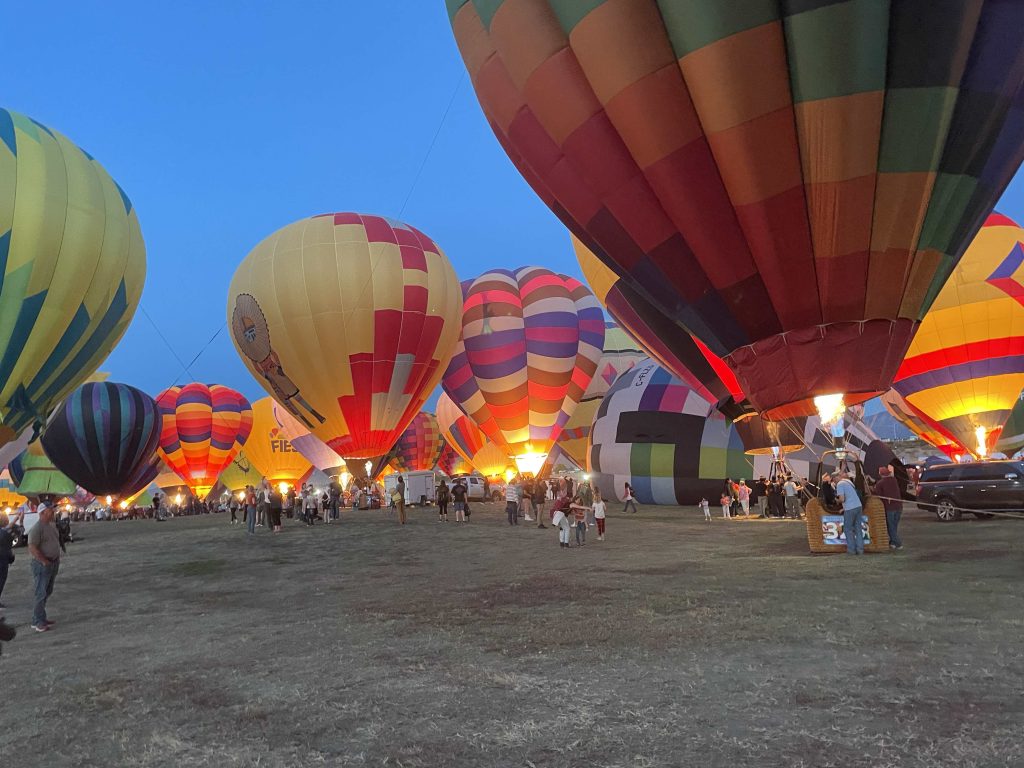 Our second night in Albuquerque, we went for the evening session at the park. This time, we knew to get the shuttle tickets (which included park admission) before they sold out. We also brought blankets and snacks, so we were much more prepared to relax and enjoy the evening festivities.
And those festivities were plentiful! This time, as the sun set and the sky darkened the balloons glowed as they were fired up in unison.
Besides the magnificent display of gorgeous colorful balloons, there were skydivers, a drone show and two sets of incredible fireworks! The shows totally exceeded all expectations!
In Summary
I understand now why the Albuquerque Balloon Festival is so highly recommended. Since we missed the morning shuttle, we didn't make it to the park in time for the sunrise mass ascension, but we still were able to witness the beauty of the sky filled with colorful balloons.
But for me, the highlight of the Fiesta was the night session including the Balloon Glow, skydiving show, drone show, and fireworks. I'd never seen anything like it! So gorgeous!
Sharing the experience with Sonja was what truly made it special. Everything… the road-trip, our long talks, our shared excitement and joy of the shops and galleries, the thoughtful surprise earrings.. and, of course, the thrill of seeing all those gorgeous sites together – they all are memories I'll treasure.
Please follow and like us: