Starting on Friday last week, I had a series of Microadventures! Each of them deserves a lot more than one photo and a quick writeup, but I want to hit the highlights while these are all fresh in my memory.
For those who've been following along, my Microadventures have 3 parts: 1) Do something fun 2) With someone else and 3) Blog about it. Being an introvert and away from my Colorado home, the "with someone else" requirement is often the biggest challenge. However, it is absolutely the biggest reward!
Each Microadventure 'Buddy' has a superpower that I admire and can learn from.
Tim and Amy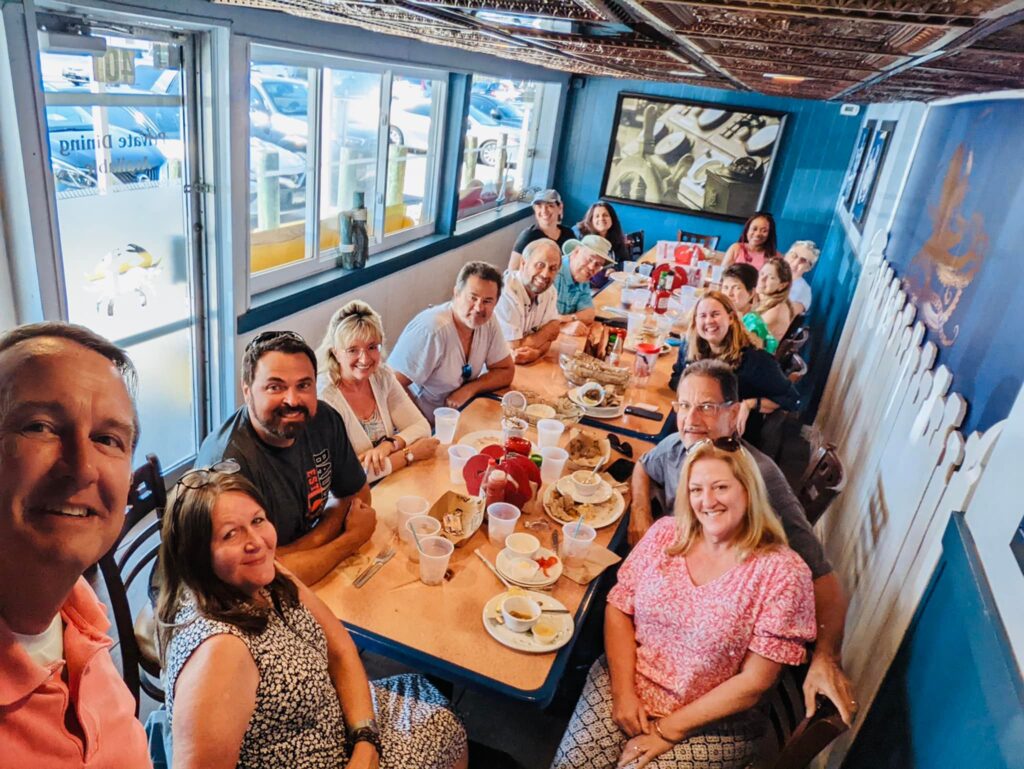 My series of Microadventures started at a "Go With Us" event that was posted on Facebook. Amy and Tim of Go With Less! – Nomadic Lifestyle fame were in the Tampa area and sponsored this event.
Amy and Tim are personal friends with my friend, Adam and he told me about their popular group, knowing my plan to have a nomadic winter.
I am in awe of the community of travelers from around the world that they've built. Amy and Tim are so outgoing and friendly that it's not surprising that people are naturally drawn to them and want to be part of their community. They have thousands of subscribers to their YouTube channel and in their Facebook group!
I was amazed that they had a large group of 16 people who gathered at this event when they're just visiting here!
As we all went around the table giving introductions, most people talked about how easy it was to make friends while traveling.
However, when it was my turn, I revealed that making friends when traveling was hard for me.. that I had to specifically make it a "goal" to meet people and that it was awkward for me to talk to new people.
Well, I guess that helped break the ice, because at the end of the event, several people exchanged contact info with me! I feel like I have a whole new group of instant friends!
Tim & Amy's Superpower: Connectors! Friendly and welcoming, these two are able to create and foster community.
Faye and Cyd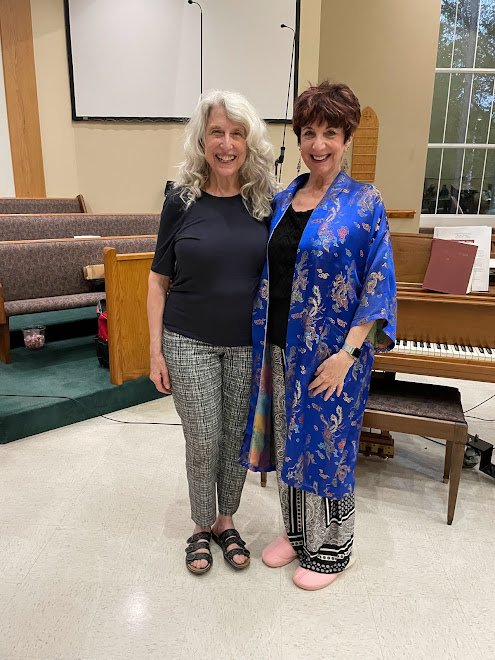 I went right from Crabby Bill's to Sun City Center, FL to attend a performance of the Pelican Players. About a month ago, on Microadventure #8, I'd seen Cyd Charrow sing "Gimme, Gimme" on stage with the Pelican Cabaret Singers. She'd invited me to a play titled "National Storyteller Championship."
Even though Cyd, along with the others in the play, were actors, they all told stories, and even competed to win a prize – a pelican statue! Cyd's story was one of an unusual dream, and included some very entertaining interpretations!
Cyd's sister, Faye, was visiting from Colorado, and sitting next to me in the audience. She was my talented voice teacher when I sang on stage last summer!
Both Faye and Cyd are wonderful stage performers! They even hosted a special Livestream Performance, Faces of Love, on Sunday with a 3rd sister, Janice.
Cyd and Faye's Superpower: Performers! These sisters have a natural command of the stage and musical theater.
Scotty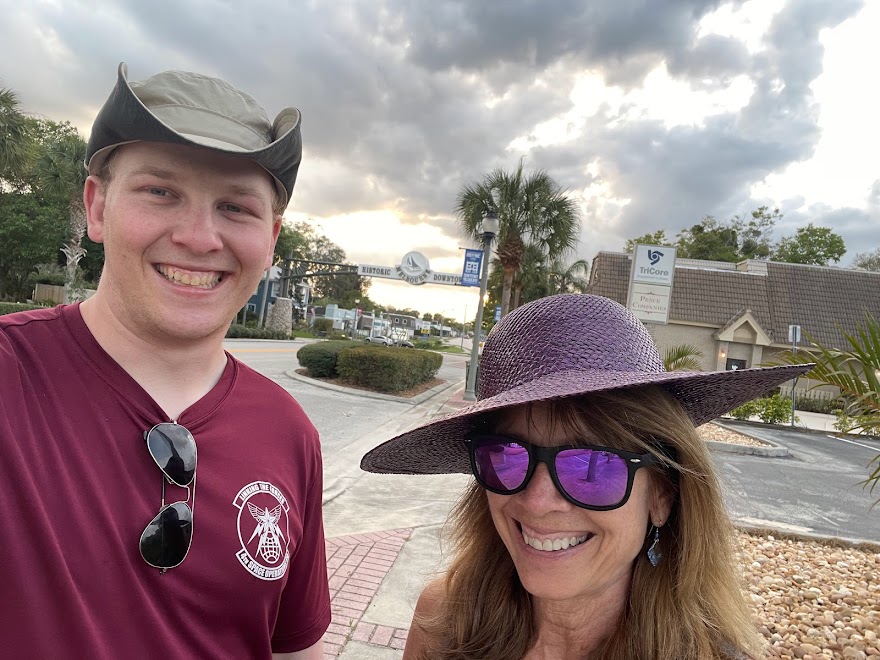 On Saturday morning, I headed to the East Coast of Florida to meet up with my youngest son, Scotty. He was out in Florida with some friends for Spring Break and tacked a few days on at the end of his trip to spend with me.
I've shared countless priceless adventures with Scotty over the years. One of the best parts of sharing an adventure with him is his amazing flexibility. He is always up for doing whatever I suggest. However, on this trip, when we found ourselves in Melbourne, Florida, he was the one who suggested roaming historic downtown to see if we could find all the city's murals.
I just loved this simple Microadventure. I've explored so many cities with Scotty over the years, and we often do something just like this — a sort of scavenger hunt of the city's iconic spots. He reminded me of one of our first trips after my divorce: Thermopolis, Wyoming, a trip that he had planned himself!
With Scotty, it doesn't matter what we're doing. I always have fun. He's always willing to play any game I come up with or come up with his own for us to play. Most of our adventures have included road-tripping where we're in the car together for hours, singing and talking.
We can talk for hours about almost any topic and I appreciate how we can look at it from all angles, and even if we disagree, still see each others' point of view.
Scotty's Superpowers: Flexibility, playful, critical thinker.
Patsy, Bonnie, and Bruce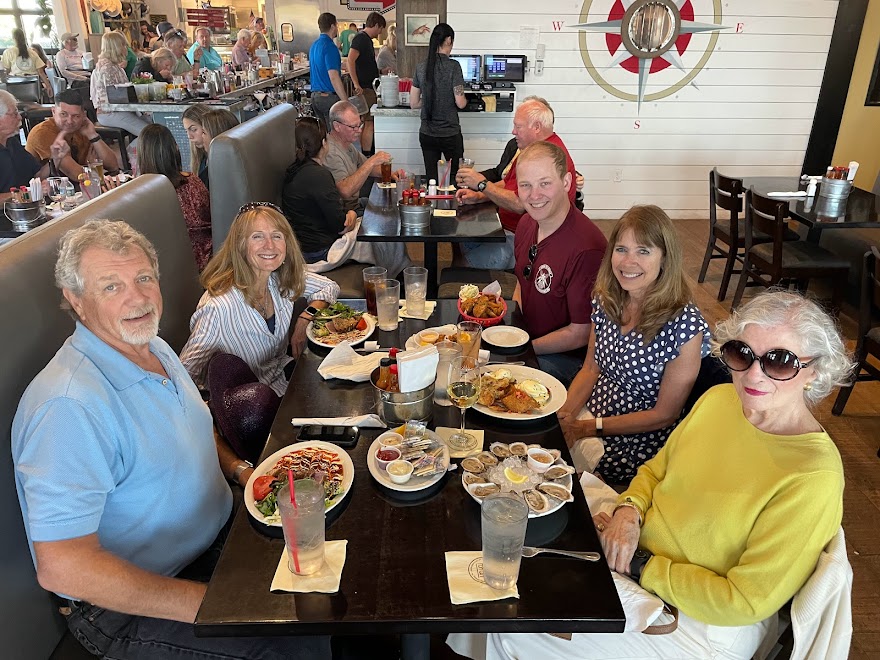 My next adventure is with the family of Chris Blakeslee in St. Augustine, Florida. I'd met Chris's Mom, Patsy, and his sister, Bonnie, last September when I was visiting Chris in St. Augustine.
I have to say, I was totally enamored with Patsy from the moment I met her. We became Facebook friends and she always finds the time to put a thoughtful, sweet comment on my posts. I'm just so impressed how tech-savvy, sharp, and vivacious she is. I've been interested in healthy aging since I turned 60 and Patsy is a great inspiration and an example of ageless beauty.
It was also fun to get to know Bonnie and her husband, Bruce, a little more during this short visit, too. I told Bonnie that I liked to write and she friended me and took the time to read some of my writing. She told me about the writing she does – Christian children publications! Now that's something to be proud of!
Of course, what would have even made this visit better would have been if Chris had been there, but he lives in Bali, and doesn't have a trip back home planned until May, when I'll be back in Colorado.
I'm just grateful his family welcomed me with such kindness and didn't think it was too weird that I was visiting and asking them to be part of my "Microadventure."
Patsy, Bonnie, and Bruce's Superpowers: Kindness, Generosity, Grace
Tony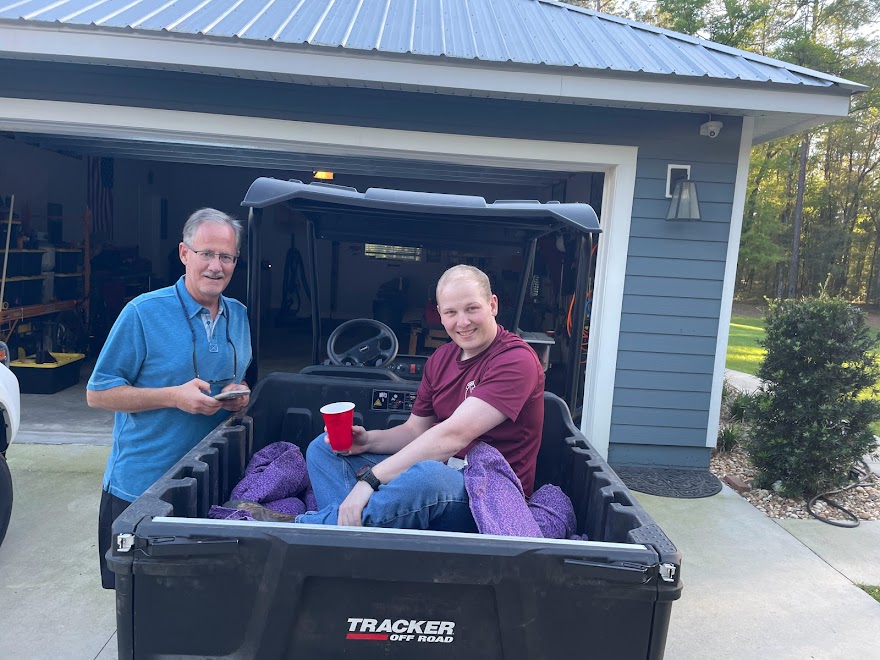 My final microadventure of this short Florida road trip was at my "cousin" Tony's house in Newberry, Florida. Though he's not really my cousin, he was married to my cousin many years ago and, thanks to Facebook, we've become good friends.
Our visit started with Tony's Marvelous Margaritas. Even though I've been giving up alcohol for Lent, Sundays don't count, so I took full advantage and had two margs!
Tony has been a very gracious host to Scotty and me in the past. Since the last time we were here (2 years ago) Tony has continued to make improvements to his beautiful property.
He's building a big barn structure and has all kinds of plans for a pool and a loft – so much room for all his grandkids (he has 5 right now), kids, and friends to enjoy. He has a big fire pit where he hosts bonfires. Sitting on one of the stumps and looking out through the trees at the setting sun was such a picturesque scene.
Tony took Scotty and I on a tour of the property (with Scotty taking Tony's dog, Cooper's, spot in the back of the golf cart.)
He even created this super-cool and lovely "Flamingo Trail" through his acreage with little flamingos strategically placed. Mark my words, this property will make it to the Tour Books and Travel Sites as a "must see."
Tony's Superpowers: Hospitality, Generosity, Master Handyman
Please follow and like us: