Two years ago, when the pandemic began, I "adopted" a flamingo, Kamikaze ("Kazi" for short), from the Sarasota Jungle Gardens.
Since Scotty was visiting last week, I took the opportunity to introduce him to his adopted "flamingBRO"!
I told Scotty that when we got to the flamingo area there would be a lot of flamingos and we'd have to check their legs for the #38 tag. (Sadly, I am not able to pick Kazi out in a crowd without his tag. I only visit him once a year. I know. Not great Flamingo mothering.)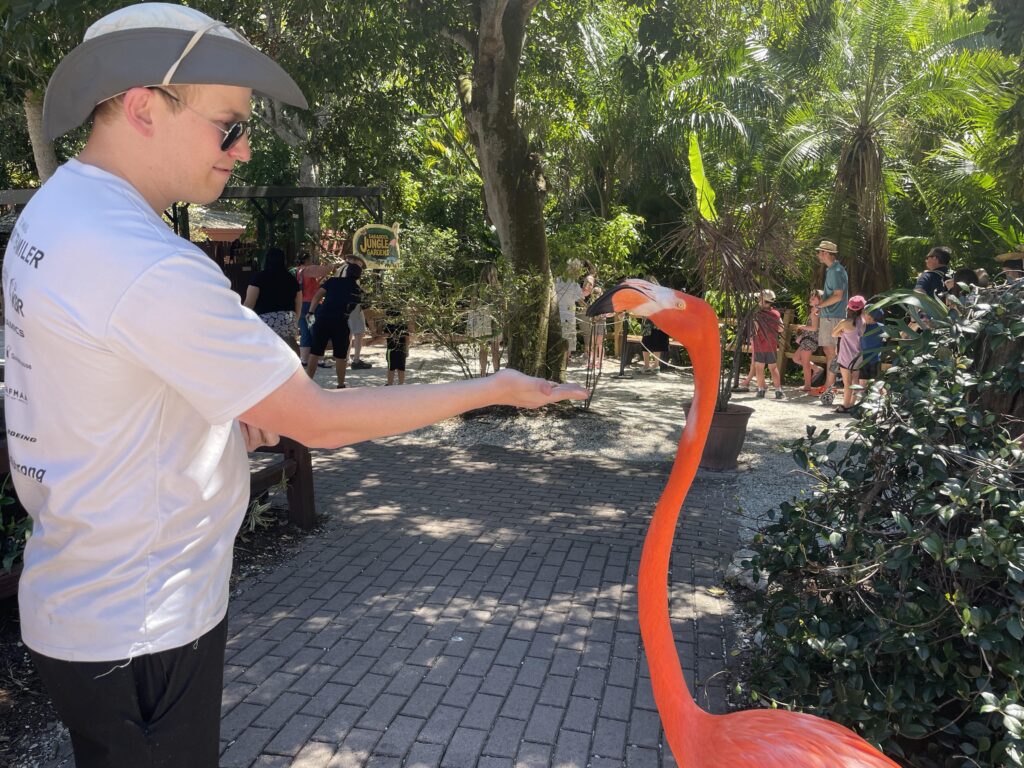 Well, almost as soon as we entered the park, a flamingo, very much removed from the flamingo area, comes roaming up to us, and guess who it is? You got it! #38 – Kazi!
When Scotty tried to give him some of our newly purchased flamingo food, he turned up his nose at it!
Some other patrons came by and told us to "Watch out for that one! He's mean!"
MEAN? My adorable adopted flamingo? My parental instincts fired up, I was tempted to tell those people THEY were the mean ones! How dare they judge my innocent Kazi.
Then I went into guilt mode. How much of this is my doing for adopting him and then completely neglecting him? I know my biological children can understand that my neglect is done with love.. and also because they're all grown up.
Maybe Scotty was the problem. Could Kazi be jealous? I just wanted him to meet his human brother.
It was clear that Kazi was not warming up to us. We went on to visit with the other more sociable flamingos. They were quick to gobble up (in a kind of slobbery way) the food we'd bought.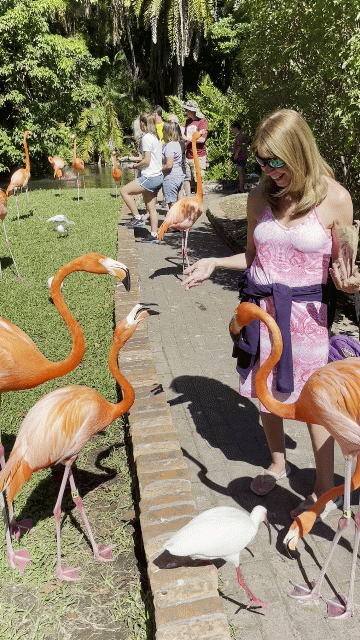 We enjoyed the rest of the park, but I still had a heavy heart that my own adopted flamingo did not want to be with me. I tried to chalk it up to flamingo adolescence and vowed to make one more attempt to connect before we left the park.
As we were exiting, we saw Kazi, still separated from the other flamingos, in line — get this — to have his picture taken with an exotic bird!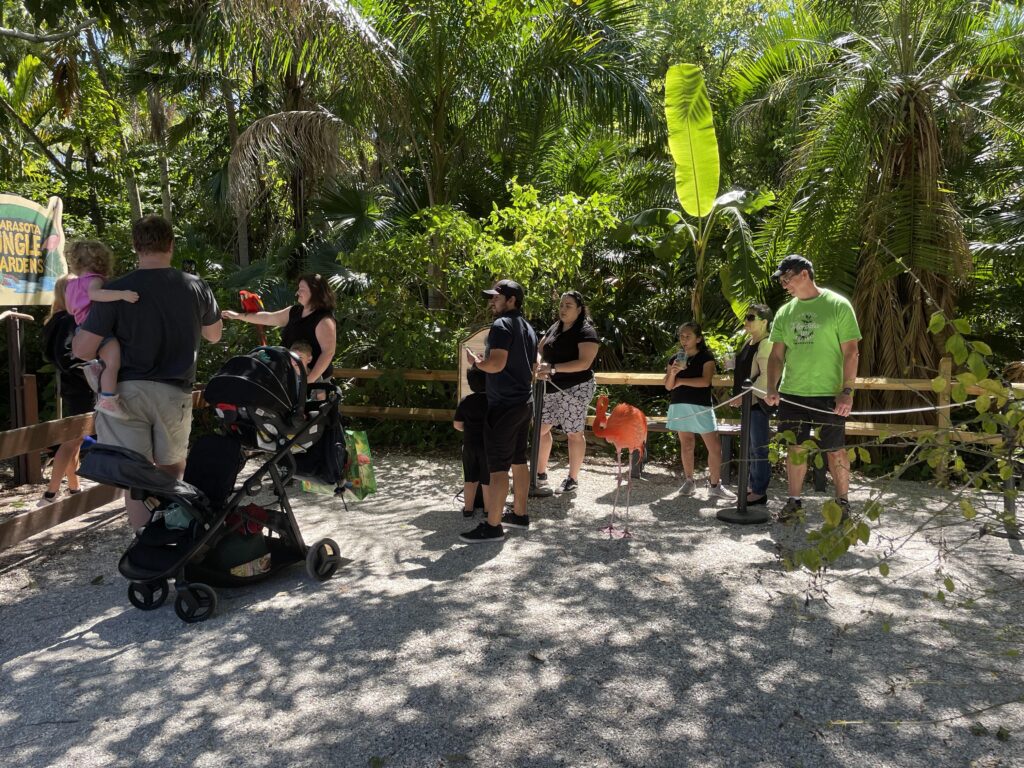 Maybe this was the problem. Kazi was jealous of all the attention these pretty birds were getting. Or could it be, he had an identity crisis and thought he was in the wrong species? I knew I shouldn't have read "The Ugly Duckling" to him. It's bound to mess with a bird's psyche. Or, maybe, he had a crush on one of the colorful exotic birds.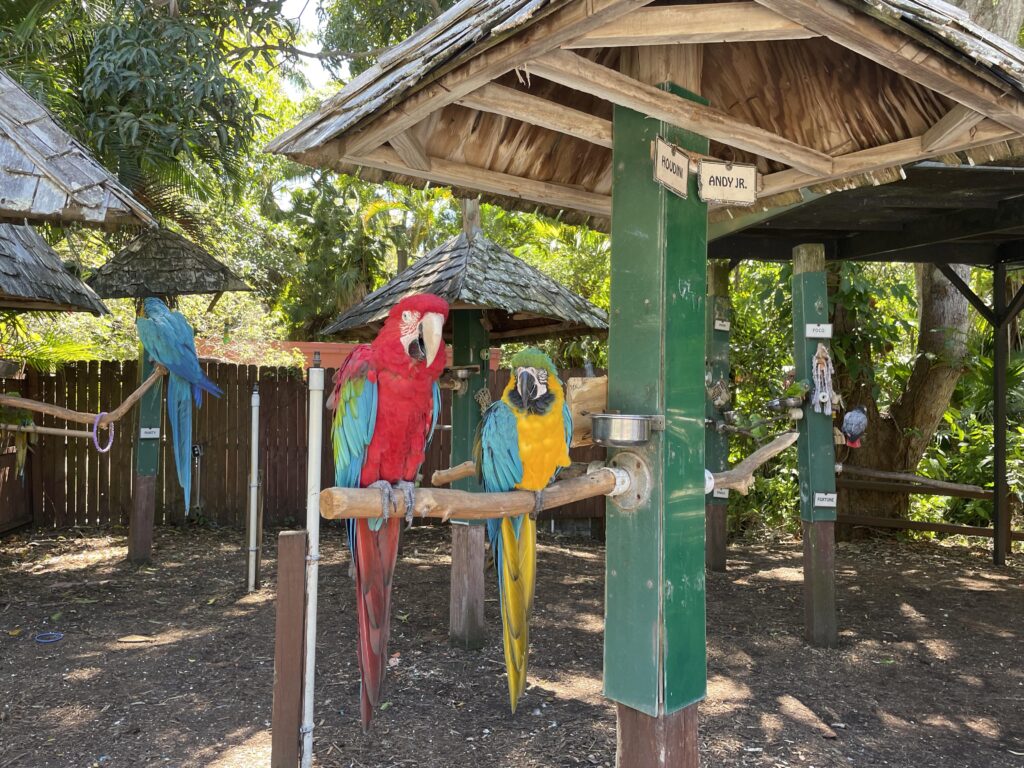 I just hoped that the birds would all be kind and not bully him for his pink feathers or long neck. It's gotta be tough on an adolescent orphaned flamingo with an absent adoptive mother.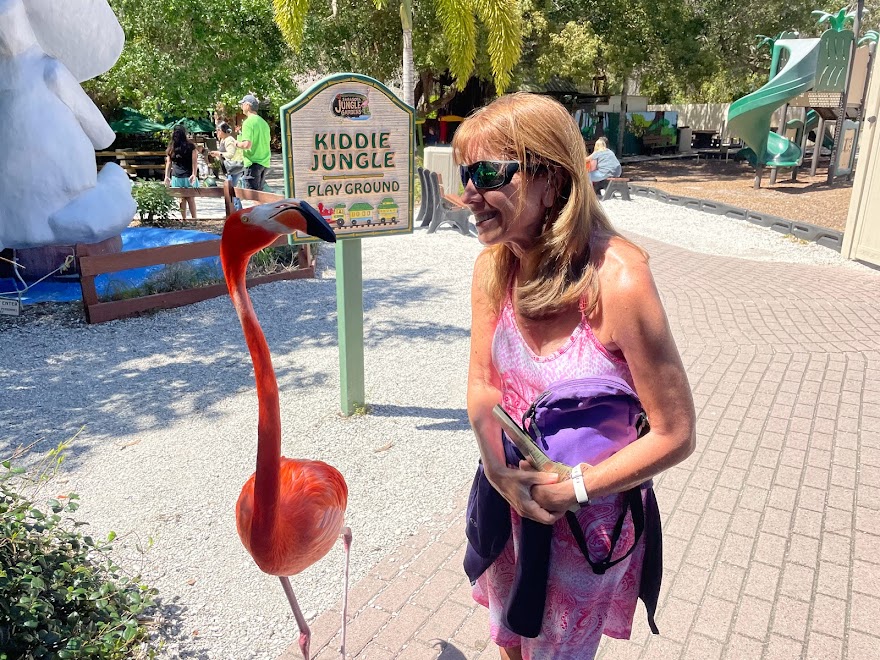 I told Kazi that I would always love him no matter what. If he wanted to be with a different kind of bird, that was cool. "You do you, Kazi!"
Once he saw that I was not going to force him to hang out with his own kind he took the flamingo food that I'd saved for him from my hand. Yeah, it's probably just that he was hungry, but I like to think it was our talk.
Even flamingos need to know that their mother loves and accepts them, regardless of their quirks.
I'm proud that I've brought Kazi up to have a mind of his own. He doesn't feel the need to conform to what others view as "normal" flamingo behavior. He ignores the taunts from those who call him "mean" or any bullying squawks from the macaws.
You make me proud, Kazi! I hope next time you'll join Scotty and me in a family picture: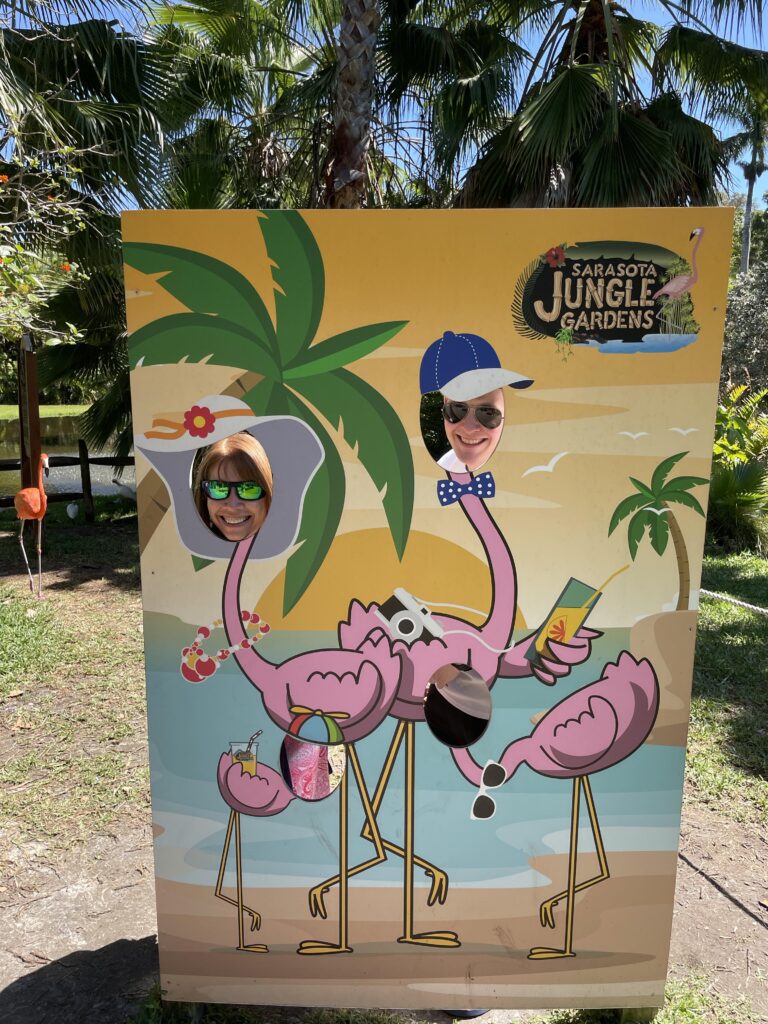 Please follow and like us: