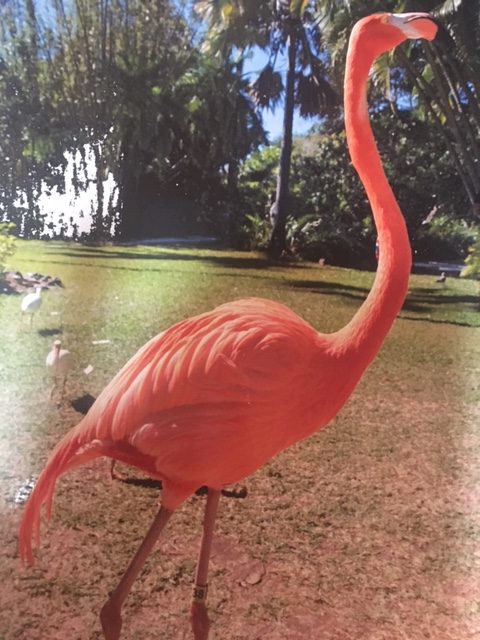 I'd wanted to blog about this on National Pink Flamingo Day, but I'm afraid I'm a day late. But that's OK because what it says on that site is to celebrate by putting out of those cheesy lawn ornaments.. but what I'm about to reveal is much better. Flamingo-lovers out there, rejoice, because now you can adopt your own real-live pink flamingo! (Note: A bunch of other animals are available for adoption as well.)
While I was in Sarasota, I really wanted to see the flamingos at Sarasota Jungle Gardens, but, of course, it was closed like everything else because of Covid-19.
However, I found out for a $50 donation, I could adopt my own flamingo!! I help the Gardens, adopt a flamingo, and they take care of it! How cool is that?
Not only are they taking complete care of Kazi, but they sent me a great packet of information about flamingos, a Certificate of Adoption, a flamingo magnet, an 8×10 photo of Kazi and a personal letter, even congratulating me on my "Carpe Diem Day Movement!" (I told them that flamingos were my Carpe Diem Day mascot!)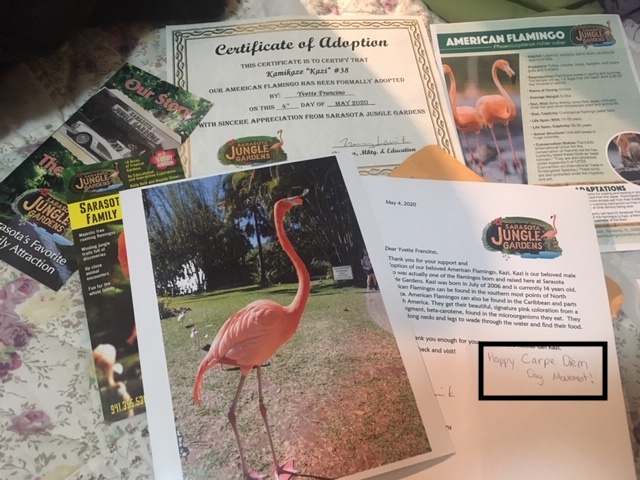 This is a wonderful opportunity and I can't wait to visit Kazi when I get back to Sarasota.
Please follow and like us: