Woo Hoo, People! February 26 is Carpe Diem Day so we are in Carpe Diem Season or as I like to spell it Carpe Diem Seizin'! Let's seize those beautiful days of February.
Last year, I created a video and hosted theme-day contests throughout the month:
Even though we still have not completely kicked Covid to the curb, we have made progress. Still, 2021 was another tough year for our country. And it ended with the most destructive fire that Colorado has ever seen, right in my neighborhood!
My house was spared, but over 900 homes in Superior and Louisville were burned to the ground. While I certainly was relieved that my house survived, it hasn't felt right to promote "Seizing the Day" when so many people are experiencing so much grief.
On the other hand, I know from personal experience, that finding and celebrating every day joys is more important than ever during times of sadness or grief. Gratitude for what we do have and for the people we love is what helps us get through those very difficult days.
My project for 2022 is to have a "Microadventure a Week" with someone else and to blog about it. This has been fun and it often pushes me a little bit out of my comfort zone. It takes planning and finding someone to join me and involves learning and socializing – two things that keep my brain healthy.
So, that takes care of "Seizing one day a week" but what about the other 6 days? Every meal is an opportunity!
Yesterday, I "seized the day", enjoying a refreshing glass of white wine while having a healthy dinner with the lentil and eggplant meatballs that Becky had made. Becky lit some candles and joined me for a delicious conversation to go along with the delicious food.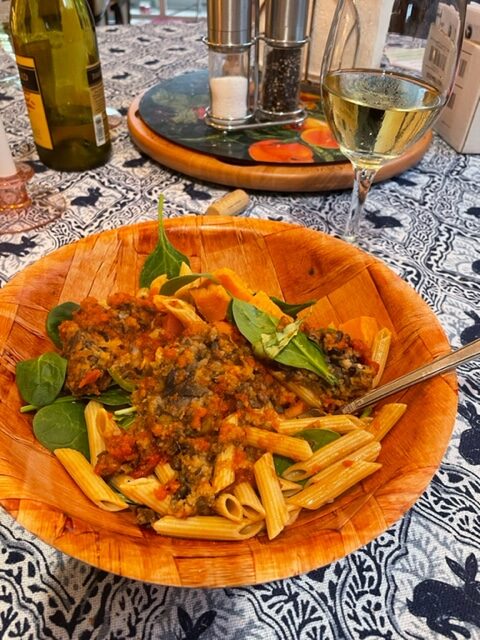 This morning, I spontaneously bought an unusually vibrant blue and purple orchid. I was so impressed with the color that I bought it (and only slightly disappointed to learn that it was artificially colored.) I love orchids and will still enjoy it when it comes back white after its dormant period. Eating a big healthy breakfast is always a "Carpe Diem Moment" for me and now I can do it in the presence of our new orchid.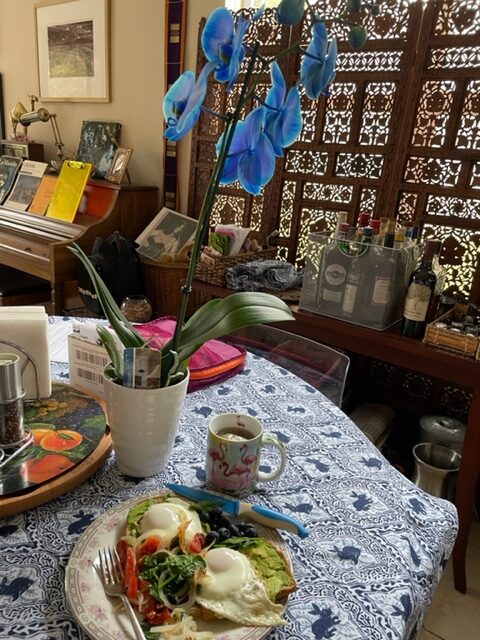 Even though I'm not hosting contests this year, I'm still hoping to see pictures on social media of those every day joys that we all experience and so often take for granted.
Please come share your pictures or Carpe Diem moments on the Carpe Diem Connections Facebook Group!
Please follow and like us: