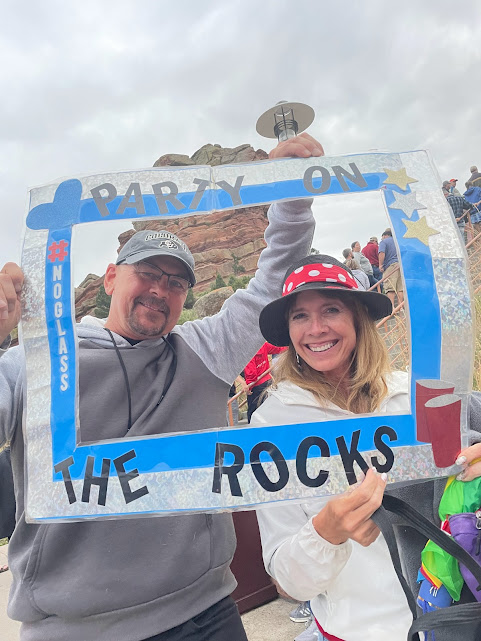 Arguably, the best outdoor amphitheater in the nation is only about 40 minutes from my house: Awe-inspiring Red Rocks.
The scenery and atmosphere while listening to a concert at this stunning venue is definitely an unforgettable experience. Now that I'm thinking of moving, I've been making an extra effort to get out to my favorite local-area places. And then I think.. "How can I possibly move? It's too beautiful here."
The Beatles actually performed here at Red Rocks in 1964. Obviously, the "real" Beatles are no longer performing, but 1964 the Tribute, traditionally does a great job of giving us the whole Beatles experience, here at Red Rocks in August.
I saw them first in 2008 and remember texting a friend:
"Guess what? I'm listening to the Beatles at Red Rocks!"
to which he replied:
"And I'm listening to the Rolling Stones at Fiddler's Green."
The other night was the 3rd time I've seen 1964 the Tribute perform at Red Rocks. I know most of the songs, of course, and they encourage the audience to sing along.
The acoustics are amazing at Red Rocks. Even though we were sitting way back in the "General Admission" section, we could hear everything and see on the big projected screens.
I love how much the band members stay in character, dressing, acting, and impersonating the original Beatles, even with their banter. I never saw the actual Beatles live, but these guys sounded exactly like any recordings I've ever heard.
If you haven't been to Red Rocks yet, I recommend adding it to your Bucket List. And if you're a Beatles fan, get out and Twist and Shout at a 1964 the Tribute concert!
Please follow and like us: