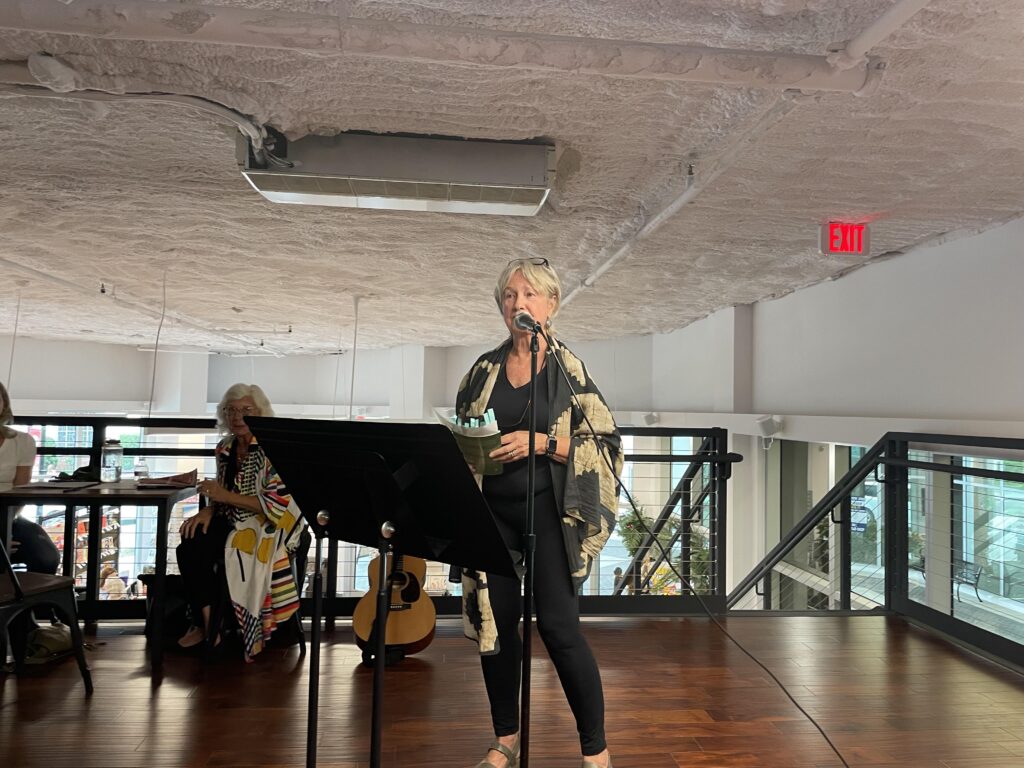 Poetry! I love it. It's like a puzzle that gives you that extra sense of satisfaction when completed. More than a puzzle – it's wordplay. Wordplay combines two of my favorite things: Words and Play! Though poetry might not always be considered "playful," I find it intriguing in its nuanced subtlety.
So, of course, when Becky asked if I wanted to join her for a Poetry Reading at a Bookstore1Sarasota earlier this month, I said, "Of course!" Even better, was that Becky personally knew one of the authors, Pat Williams Owen, who would be reading from her latest book of poetry, Bardo of Becoming, at the PoetryMic event.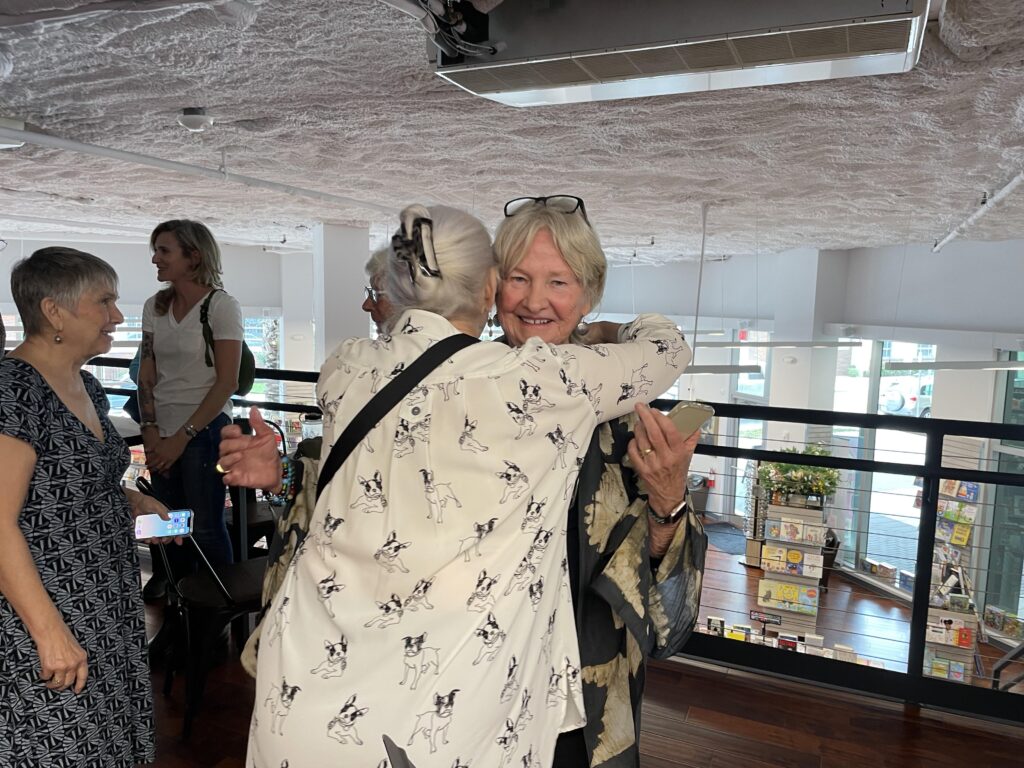 Though I have a lot to learn about poetry, Pat's poems certainly resonated with me, in that they were relatable and remind me of my own similar experiences.
This morning, when I was on the phone with my sister, who was telling me how frustrated she was that she couldn't find her passport, I said: "Oh! Let me read you a poem by Pat Owen! It's titled "When I Think I Have a Problem, I Generally Don't." (I love that title!)
The poem is about a lost earring, and the obsessive search that follows, ending with the earring being found "over layers of lint, there it was, glowing like a treasure."
Michele noted that Pat's earring was found the next day and that she'd been looking for her passport for more than 24 hours and would not be able to go on her planned trip without it, so… she still has a problem. (She wasn't really in the mood for poetry. If she were, she'd undoubtedly write a poem titled, "Why Don't You Believe Me? When I Think I Have a Problem, I Do!")
But enough about Michele. Back to Pat.
Pat often introduced her poems with a question like, "How many of you have parents?" or some similar question that made us all chuckle. She'd go on to read a poem about her father with many of the mixed emotions so many of us have about our own parents. Feelings that our children may have about us.
The adventure continued yesterday with a privately hosted event where I was able to not only hear more of Pat's poetry, but personally chat with her and others about her poems.
Becky did a wonderful job of playing emcee of this event at a beautiful home of Helen and Beatty, neighbors and friends of Pat's. (I really think Becky should consider talk-show host as her next career.)
What a treat to actually be able to talk to Pat! She answered questions about the creative process and explained her thoughts when writing some of the poems. As I said, I think poetry can often seem like a mysterious puzzle with double meanings. How fun to be able to ask the author what she was thinking as she created her pieces.
Since April is National Poetry Month, I'd been meaning to learn more about poetry. Listening to these poems and buying Pat's book has inspired me!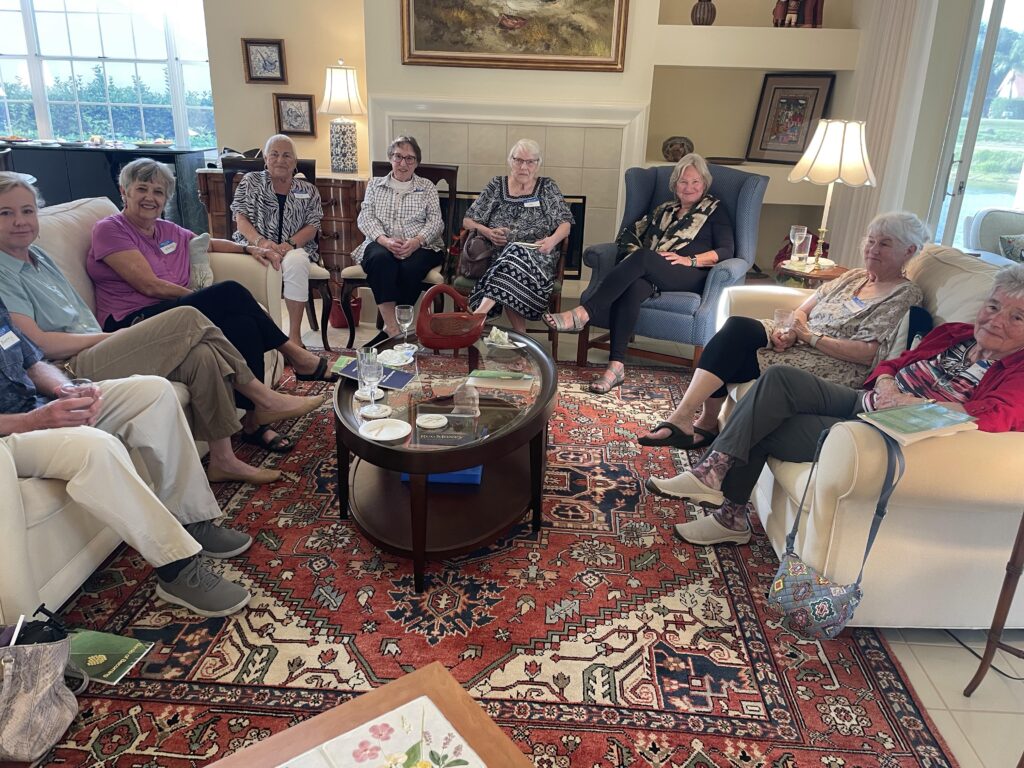 I was inspired not just by Pat's book and poetry, but by the post-discussion by all those who attended. This picture doesn't show everyone in attendance (and excuse the poor photo where I cut off the head of the one male, one of our hosts!)
Each person has a story worthy of a book! What varied experiences from this learned group! I was so impressed with their accomplishments, wisdom, and creative endeavors!
They also had the humility to downplay their stories to which I'm afraid I may have been a little too harsh in my response, reminding them not to sell themselves short.
I know how much the stories we tell ourselves about ourselves matter. These people are incredible role models to everyone and I felt so lucky to have been able to share the afternoon with them all.
Please follow and like us: