For the past 5 years or so, my adult children all lived in Colorado and monthly get-togethers for birthdays or holidays were the norm. However, in the past year, both my sons moved to other parts of the country.. Matt (and Stella) to Chapel Hill, North Carolina, and Scotty to Centreville, Virginia (near Washington DC.)
Centreville is a 4.5 hour drive from Chapel Hill, so while I'm visiting Matt & Stella's, I wanted to also make a trip up to see Scotty's new place. I decided to do this over the Veterans Day long weekend before the days were too cold.
Veterans Day Free Food Hunt
Scotty, a Guardian in the newest military branch, the Space Force, has Veterans Day privileges to the many establishments offering free food and other goodies to Veterans. Scotty views this as what I'll describe as a Veterans version of a Trick-or-Treat event.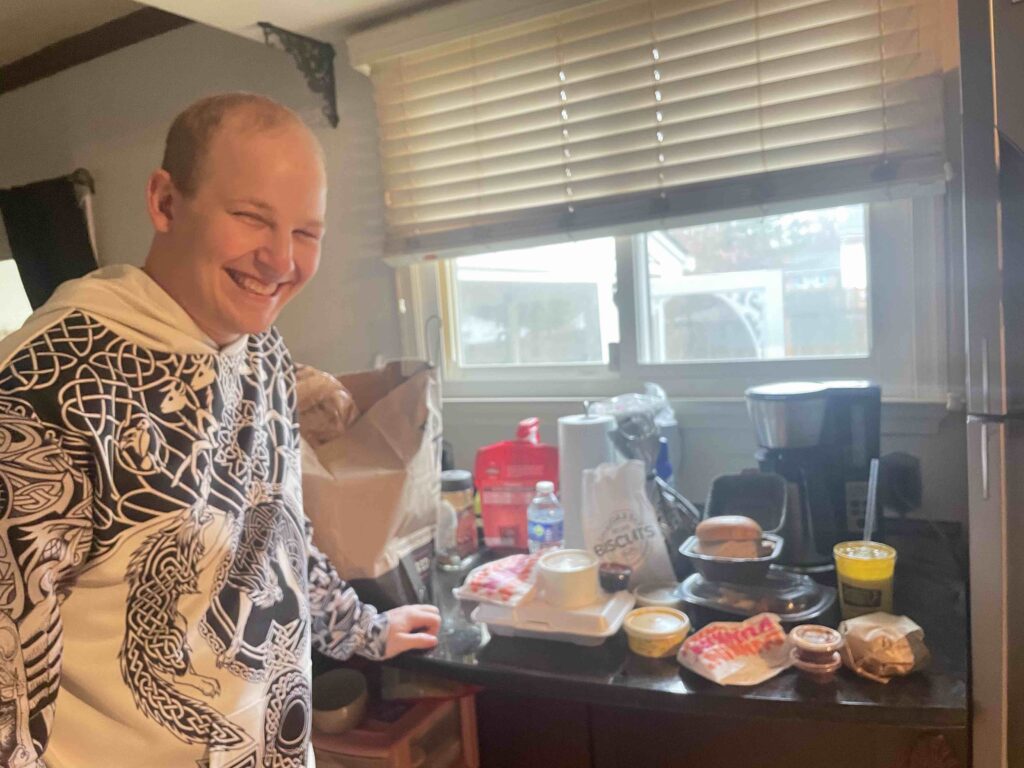 I guess he typically does this with friends from work and assures me he's not alone in this tradition. Personally, since Scotty is an engineer and has never been deployed, his job doesn't seem particularly deserving of all the "Thank you for your service" respect that he gets from the general public.
I also don't like him taking advantage of the generosity of businesses to collect a bunch of free food.. However, I'm sure this frugal gaming nature of collecting "free stuff" probably originated from my parenting habits. After my divorce, when I was always worried about money, I did gamify everything from grocery shopping to vacationing, looking for ways to be as cheap as possible, and Scotty very happily played along. I've reminded him since he's been a well-employed adult that it's no longer necessary to be ultra-frugal. He reminds me of his generosity in sharing his free stuff with me, to which I roll my eyes.
In any case, I resisted my instincts to criticize this tradition.. after all, he's having fun, its harmless, he's not breaking any laws and apparently he's not alone in celebrating Veterans Day this way. And, yes, I get to share in the collected loot. To his credit, Scotty paid my full-price meal when we went to dinner at BJ's Brewhouse.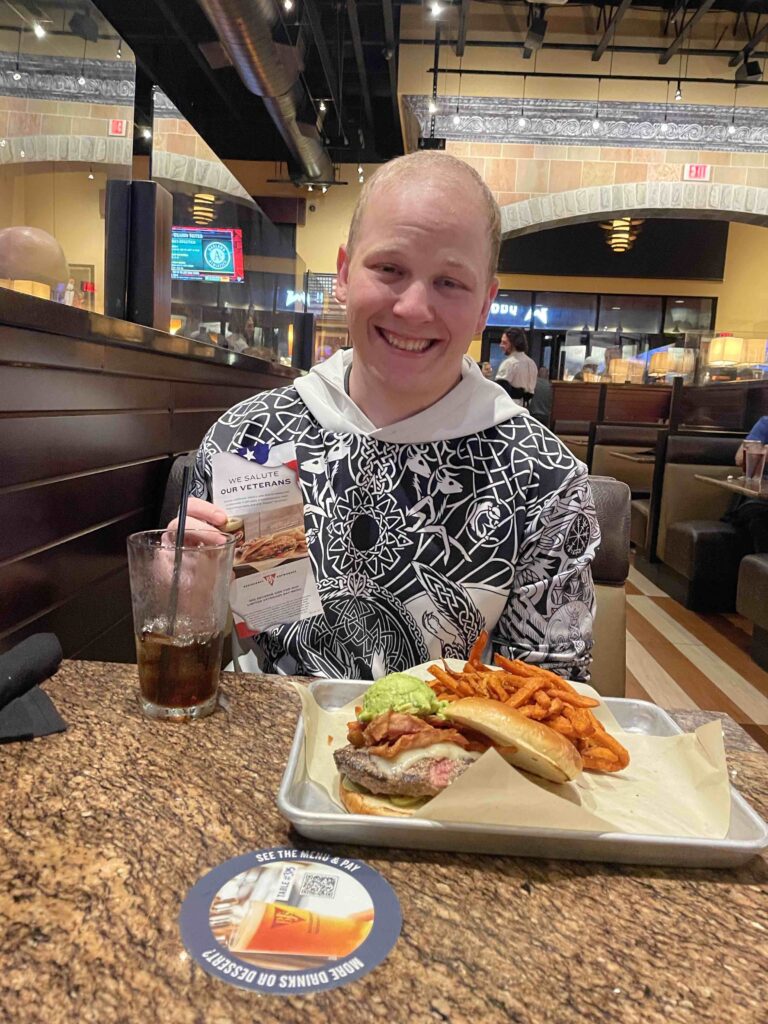 Walking
I also give credit for Scotty indulging me in my own traditions that he may have been internally rolling his eyes about – walking at least 10K steps every day.
On Veteran's Day it was very rainy, yet in between fast food stops, I wanted to walk. Amazingly, there was the perfect trail, the George Snyder Trail, which we stumbled upon, right behind one of our stops!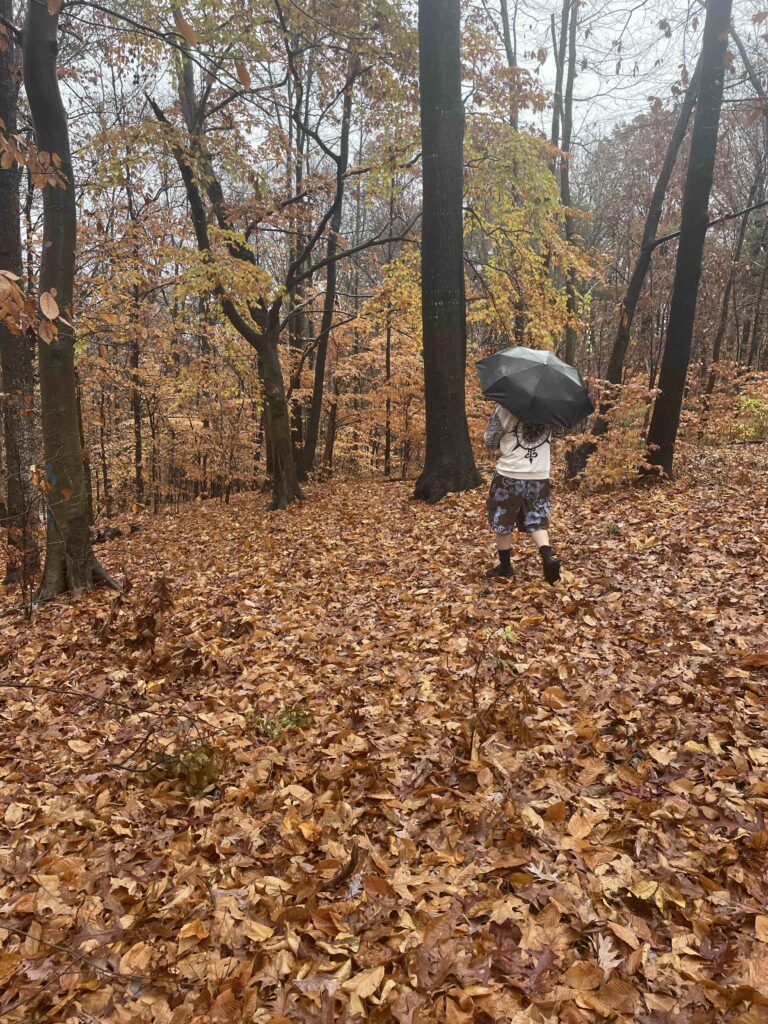 We both had umbrellas, and even though at times the rain was coming down fast, it wasn't too cold. The blanket of leaves that covered the ground, along with the still colorful trees and the rain made this walk unique and memorable.
There also was a long, scenic trail right in Scotty's neighborhood that he took me on when I first arrived, knowing how much I enjoyed walking in new places.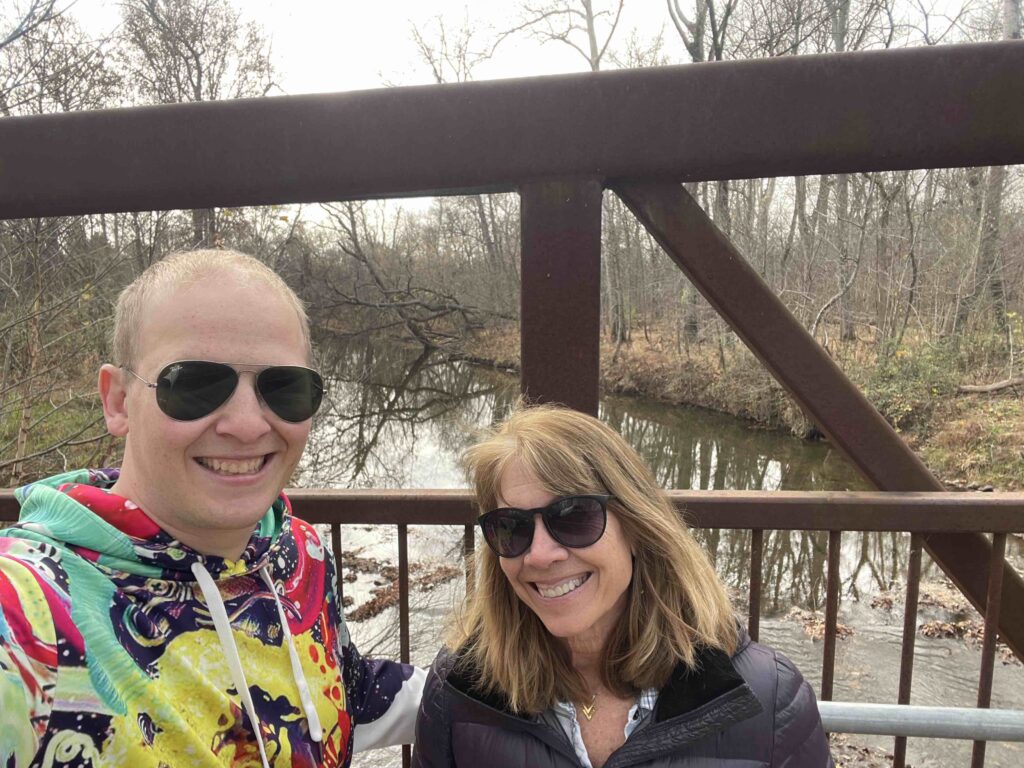 Scotty's house and neighborhood
I actually loved walking in Scotty's neighborhood, too. One family had gotten a head start on the Christmas season and had enough Christmas decorations to rival Chevy Chase in National Lampoon's Christmas Vacation.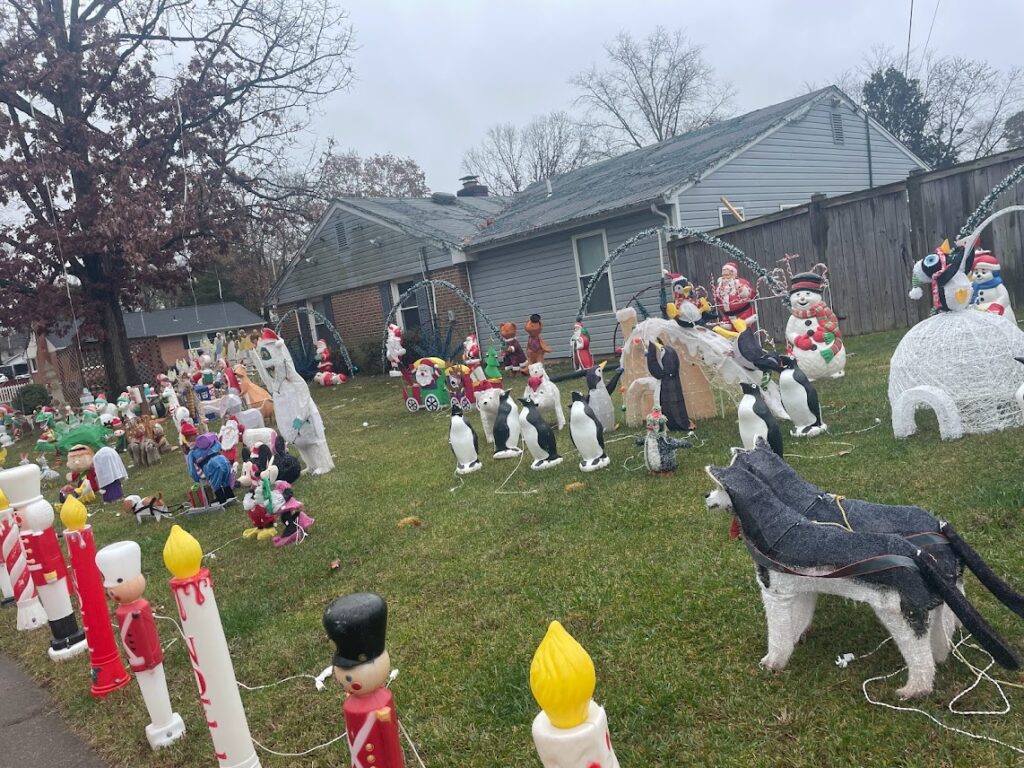 Even I (a lover of seasonal decorations) thought that this was "too much" and preferred the more simplistic decor of the houses that still had their Halloween decorations out.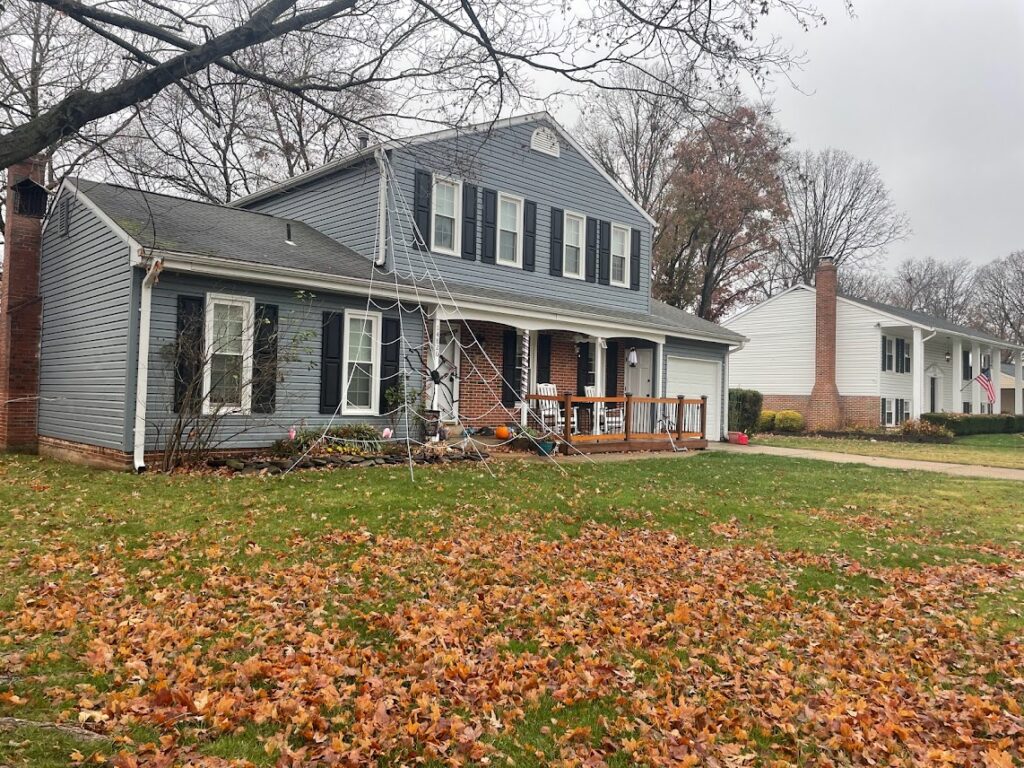 I was impressed that Scotty would be able to afford a house in a Washington DC suburb in this pretty Colonial neighborhood. He got a good loan (another perk for Veterans) and rents out rooms in order to help with the mortgage. In fact, while I was there, I helped him get his newly finished basement room set up for Airbnb rental.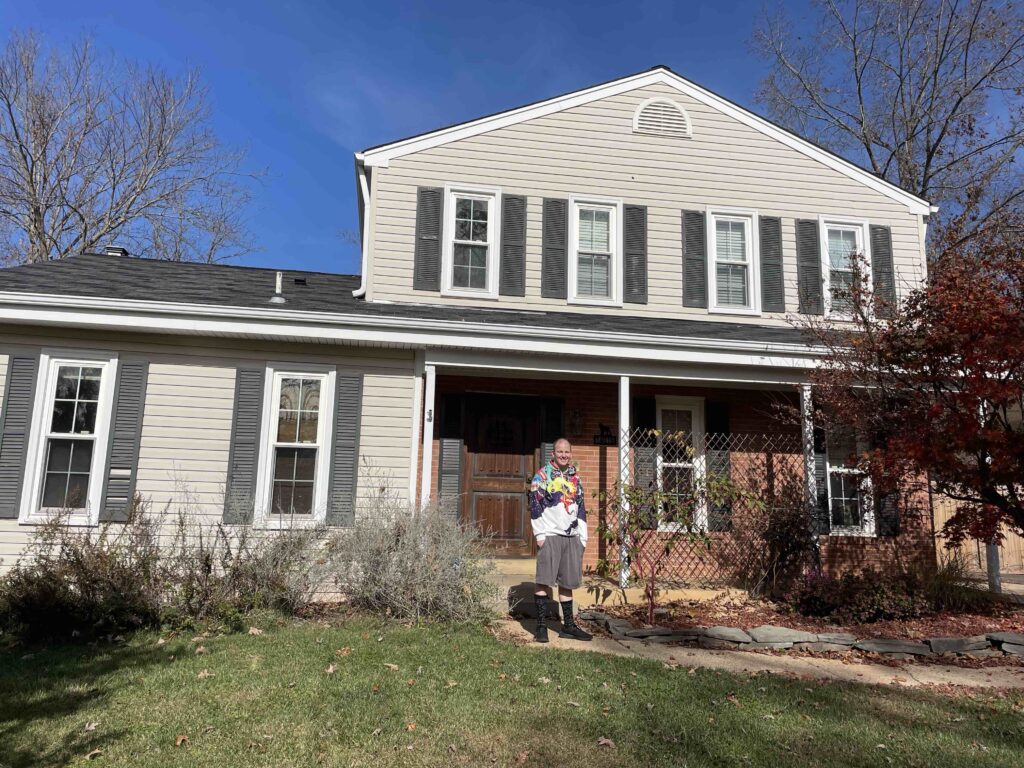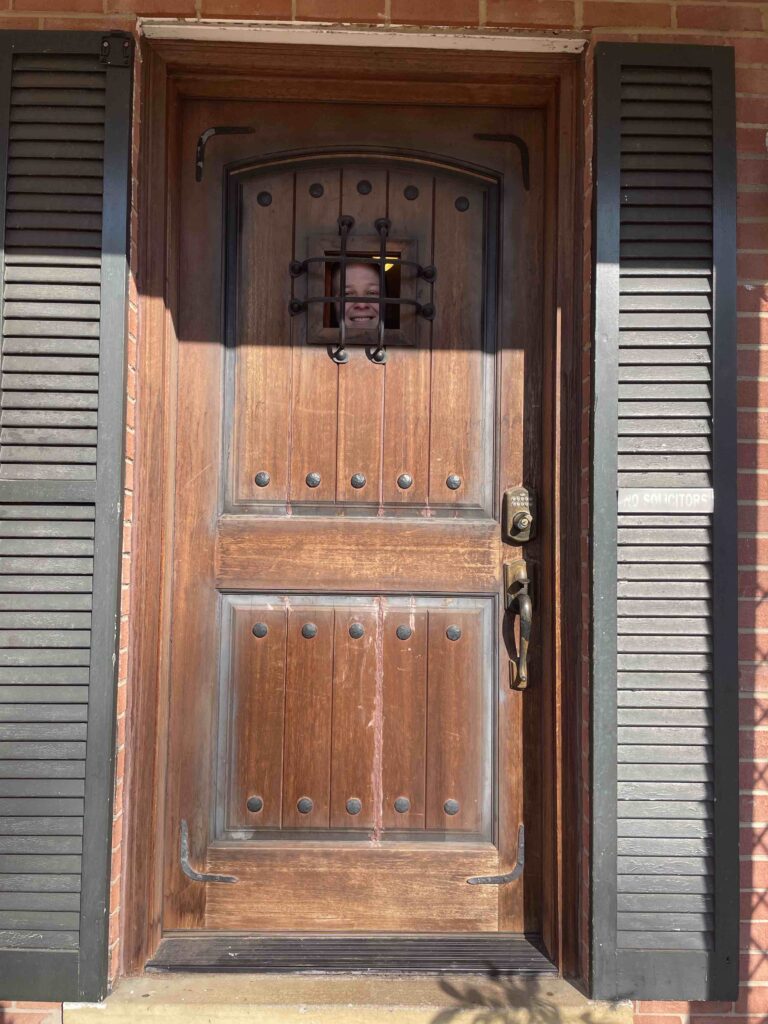 Hanging out
I really love my relationship with Scotty. Typically, I'm hosting him at my house where we have our traditions of playing games, watching movies, or eating favorite meals. It was fun to have the roles reversed.. still doing the same things, but this time with Scotty as the host, and me as the visitor.
He cooked the meals (or "provided" them on Veterans Day), picked the movie Coraline for us to watch (finding movies we both want to watch can present a challenge!) and helped me play Magic: The Gathering a game from his youth that he'd challenged me to learn.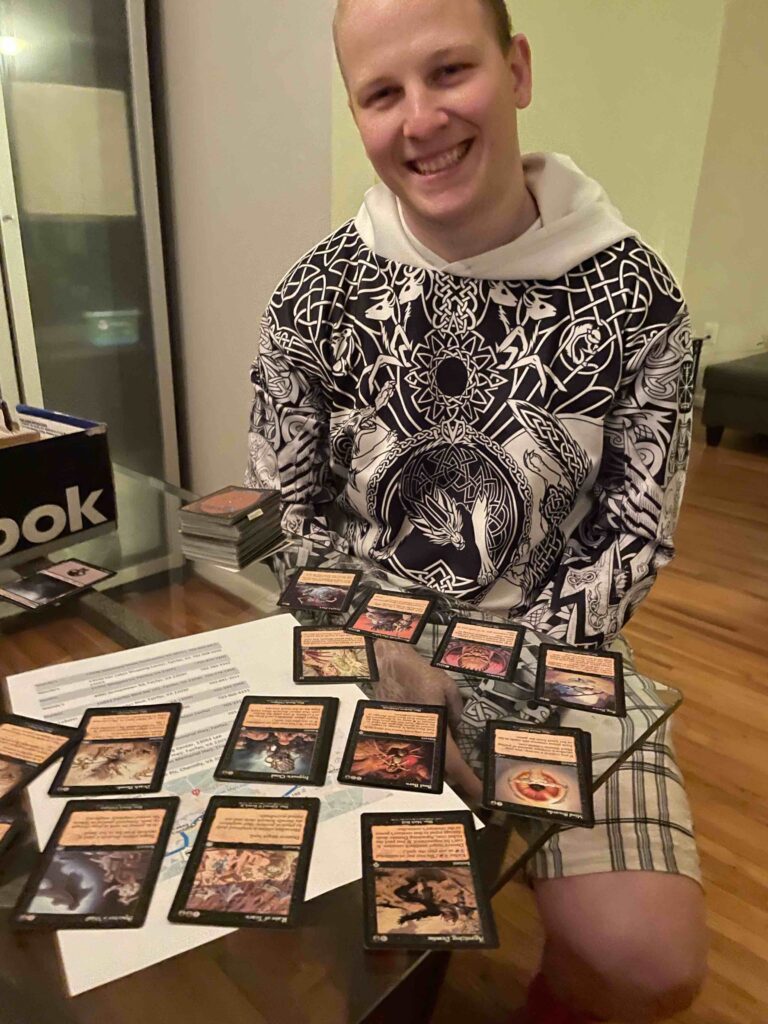 Scotty's the "baby" of the family, but he is 28 years old, and it was fun to see him in the adult role of home-owner and host. Though I'd seen him in this role for the few years he'd lived in Colorado Springs, it was more common for him to come to my house than for me to go to his when he lived in Colorado.
I'd initially been sad about my kids continuing to move further from my big empty nest, but this month I've seen that their moves have given me a new opportunity. Now I get to experience visits to their "nests" and see their lives through a different lens.
All three of my kids lead very successful, independent lives – something every parent dreams of. I'm so proud of each of them. I feel very grateful that in the past month, I've gotten to spend quality time with each of them. Even though it's been a little difficult for me to "let go" and fully embrace the empty nest stage of life, I see now that I can still enjoy special times with my kids, including this memorable Veterans Day Weekend at Scotty's in Centreville!
Please follow and like us: