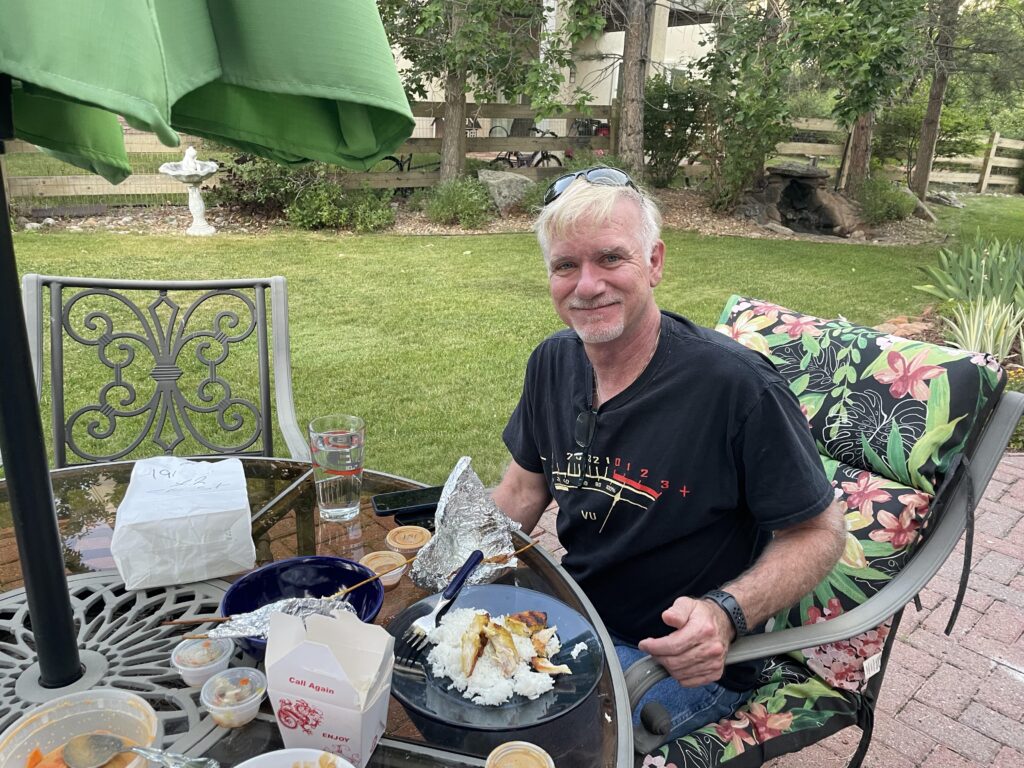 This microadventure was an unexpected surprise! My brother, Neal, sent me an email saying he was in town for business and asked if anyone was up for dinner on him!
Oh! Oh! Me! Me! (I responded immediately.) In fact, I said, I was happy to host at my house. I told him I could cook or we could get take out. He opted for Thai take-out (Busaba), which was perfect!
It turns out I was the only one who responded to his email which almost caused Neal to want to rethink the whole plan since he only had gotten 3 hours of sleep the night before. Wait. What? You mean.. not coming? Unacceptable!
I laid on the "But you haven't been to my house in 14 years!" guilt trip and it worked, because despite his exhaustion, Neal drove up and we enjoyed a lovely dinner out on my patio – one of my favorite places to eat!
Even though it would have been nice for others to have been available, I preferred getting a one-on-one dinner with my brother… something that's a rarity.
We enjoyed the evening breeze and catching up.. Neal remembered that last time he was at my house (for Megan's wedding) he fixed the fountain pump and did other handyman chores for me. He's very handy, that's for sure!
But this time, he just relaxed a little and noticed how much the yard and neighborhood had matured over the past 14 years. I really am so grateful that my house survived the fires and that my back yard is so pretty, thanks to John, my housemate who does all the yard work.
I don't know how much longer I'll be living in my big, beautiful house, but while I'm here, it sure is nice to have visitors, so I'm very glad Neal made the effort!
Even though we didn't go anywhere too exciting, having a no-fuss take-out dinner with my brother on my backyard patio is an experience to be savored, for sure!
Please follow and like us: