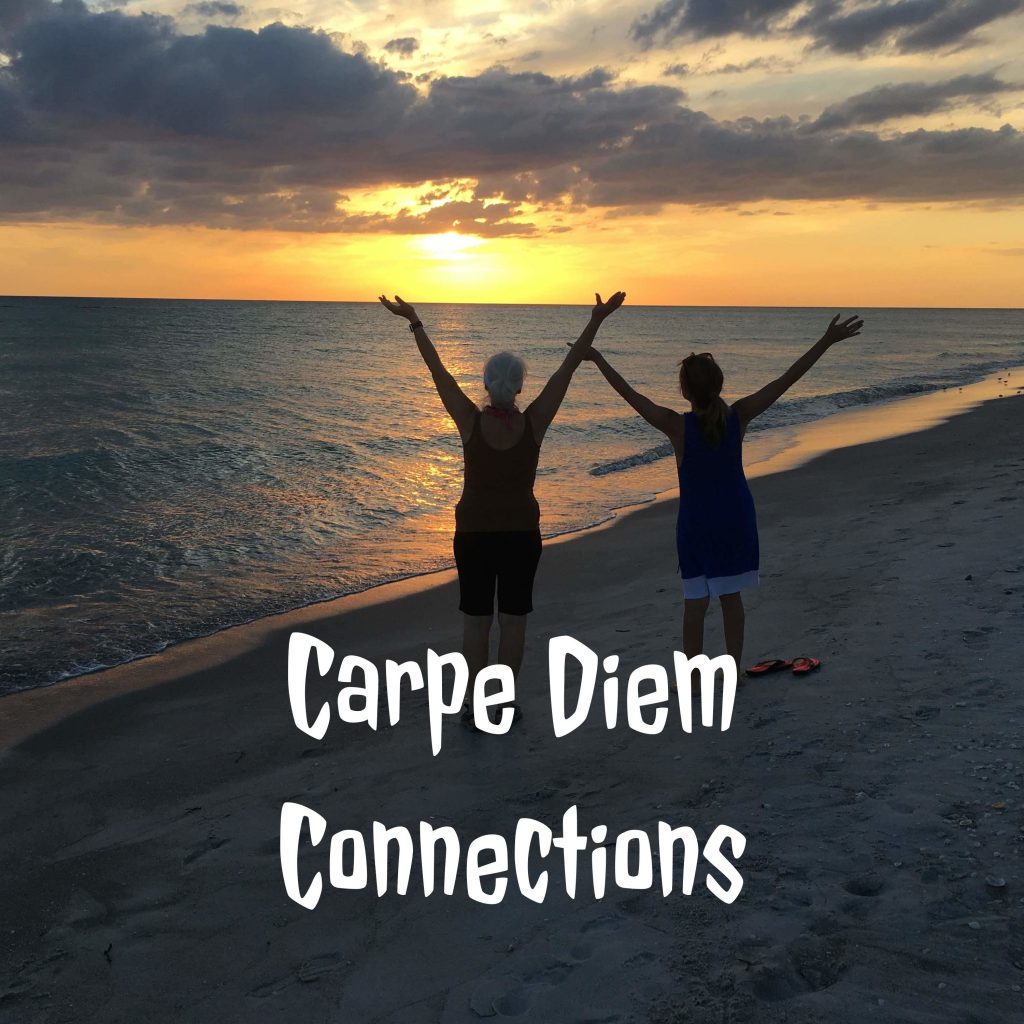 Summary
I'm loving participating in the Joy Makeover and I bet you would, too! In Season 2 of Carpe Diem Connections we'll be doing our own deep dive into finding Joy, starting with finding Joy in the election season!
History
About 12 weeks ago I started a podcast, Carpe Diem Connections. I'd procrastinated because I knew nothing about podcasting and was worried that I'd be embarrassed by how amateurish it might sound.
However, with any kind of new hobby, if you go into it realizing that you have a lot to learn, and not having high expectations, you find the learning process and the improvement is usually fun!
When I'd gotten laid off in 2009, a suggestion at a lead's group was to host a blog and interview people who I admired. This turned out to be awesome advice and it was how I ultimately got a job as a Site Editor at TechTarget and was able to network with a lot of my industry's thought-leaders. Ultimately, I ended up with a successful consulting career and a wonderful network of mentors, friends, and colleagues in the world of Agile Leadership and Quality Assurance.
Chapter 3 of Life
Now, I'd like to do something similar in the field of Positive Psychology, particularly as I'm entering a new stage of life. I'm hesitant to call it "Retirement" or "The 60's".. Maybe "Chapter 3"?
"Chapter 1" was childhood and college, "Chapter 2" was career and raising children. Now, in "Chapter 3," I'm a 60-year-old empty-nester, grateful for the opportunity to discover and experiment with what it means to live life fully.
I left my full-time contract at USAA in November, 2018, shortly after getting some bad news about degenerative back conditions. After a review of my finances and lifestyle, I came to the conclusion that, thanks to my ultra-frugal ways (and paying house-mates), I could afford to "retire." (I wasn't sure I really wanted to retire since I loved my job but.. I also wanted more time to travel, visit friends, and be as active as possible while I still felt healthy, energetic, and pain-free.
I had an awesome 60-weeks-until-60 set of celebrations, full of traveling, adventure, and new experiences. My kids and family surprised and honored me on my 60th birthday, Feb.26, 2020, by gifting me with "Carpe Diem Day," officially proclaimed in the National Archive of Days!
Carpe Diem Connections – Season 1 – Interviews with Happiness and Connection Experts
As the proud recipient of Carpe Diem Day, I promptly bought CarpeDiemDay.com and have experimented with social media and activities related to"seizing the day." I also started a Carpe Diem Connections Facebook Group, Carpe Diem – Single Snowbirds Facebook Group– and, again, 12 weeks ago, the new podcast.
During this past 12 weeks, I used the same strategy I'd used in 2009… I looked for guests who I admired and were living life fully. Most were coaches or somehow involved in the field of Positive Psychology. I'm very excited and grateful to those who I met and interviewed! It's been enlightening to hear their thoughts on what it means to them to live life fully and foster deep meaningful connections, particularly in the midst of the pandemic.
Carpe Diem Connections – Season 2 – The Joy Makeover Spinoffs
On Tuesday (Election Day!) I flew back to Sarasota, Florida, for "Snowbird Season." I'm so lucky to be staying, once again, with wise and witty Becky Burns! It seemed the perfect time to also start a new season on my podcast, hopefully, with continued learning and improving over Season 1.
Becky has agreed to be my co-host as we talk about Finding Joy. I've become enamored with Ingrid Fetell Lee and her recent Joy Makeover workshop. She offers a workbook and a very interesting set of interviews, digging deeper with topics about things such as how our joy is affected with 11 different topics starting with time, money, and relationships.
Becky and I are going to do our own deep dive into these topics and add a few more that are particularly relevant for the times or for us. For example, this week, we'll talk about Joy and Politics since the election is causing so much anxiety for so many people. As I write this, the vote is still undecided. I find it interesting that the uncertainty is causing so much anxiety, both with Covid and the election.. Uncertainty and its affect on Joy might also be part of that first podcast of the season.
Getting Feedback
In order to learn and improve, we need feedback! One of the few things I don't like about podcasting, is that it's difficult to get feedback. We base results on how many people listen or subscribe, so, of course, it's helpful to see those numbers go up. However, what I really want is listener comments and feedback!!
I know that many of us listen to our podcasts when we're out and about, so it's not a very convenient medium for giving feedback.
However, I would appreciate any feedback you'd like to send my way by email: yvette.francino@gmail.com, by using the "message" button from the podcast Website, or by commenting or IM'ing me on Facebook.
Please follow and like us: