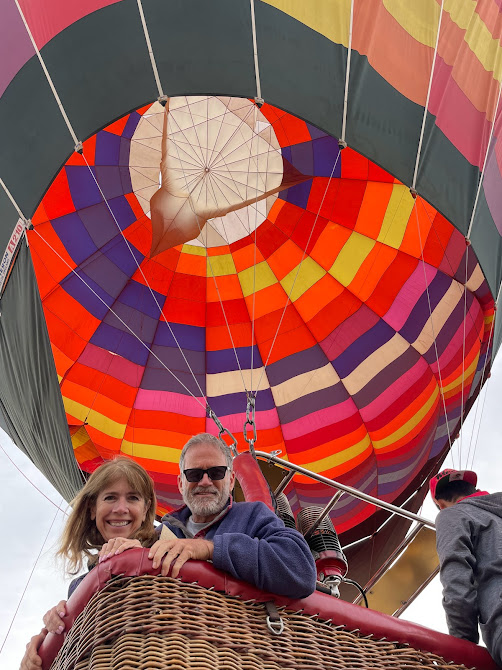 On our final morning in SMA, Chris and I enjoyed a sunrise Hot Air Balloon ride with Vole en Globo. For about $150 US dollars, we were picked up and dropped off right at our casita, enjoyed an hour long balloon ride, a sweet toast after we landed, and even a full breakfast at a local restaurant.
When we arrived, the crew was firing up two balloons, one that held 6 passengers, and ours, that would hold 8 of us, along with the pilot. Each couple got our own little corner compartment that we were able to climb into using footholds, with the pilot in the middle.
Interestingly, even though heights can make me super-nervous, I wasn't the slightest bit anxious going up. I guess the basket was high enough that I felt totally secure.
It's even more odd that I felt secure since it really didn't seem like the pilot has much control other than by how much propane gas he shoots up into the balloon.
We actually went up soon after we were all in, with no warning! No 3-2-1 countdown.. just up we went, with no time to change your mind! Someone said it reminded them of the scene from Wizard of Oz when Dorothy missed the balloon!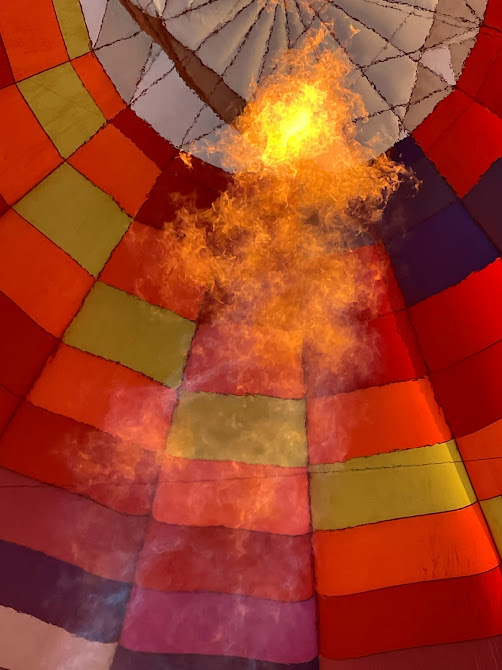 It did make me curious about the science involved in navigating a hot air balloon. I thought the pilot would be able to "steer" in some way, but it appeared he mostly could just adjust vertically and we were dependent on the wind for where we'd end up.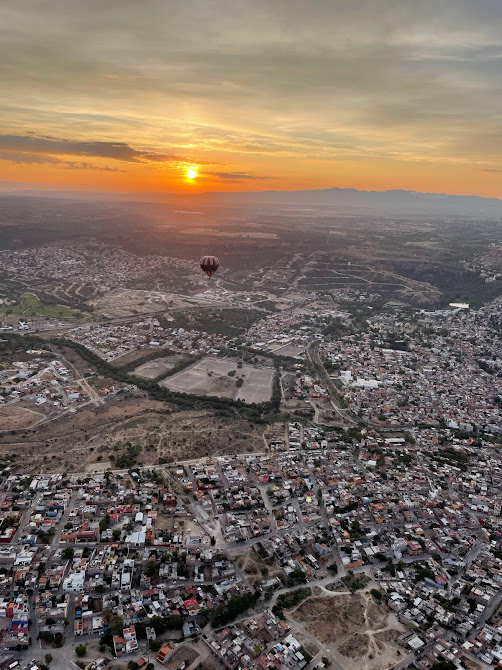 The scene from above was peaceful and serene.. well, except for the dogs. (Yeah… Definitely barking dogs… Something to be aware of before you buy a house in the neighborhood.)
Ignoring the barks, the birds-eye view, rising sun, and seeing other balloons in the sky as we slowly floated over the city provided a much more tranquil experience than I'd expected. It wasn't windy or cold, just a perfect picturesque scene.
When it came time to land, the pilot had to get low enough to throw down cables that the crew used to help to reel us in to the landing spot. Even once we got to the ground, we'd bounce up and down a bit before we were firmly settled on the ground.
The crew expertly packed up the balloon like a giant sleeping bag and loaded up the balloon and basket into the trailer ready to be be transported 'home.'
Meanwhile we were treated to our celebratory toast and breakfast with our fellow passengers.
Absolutely, one of my favorite experiences of the trip!
Full set of Microadventures in Mexico City / San Miguel de Allende:
Please follow and like us: