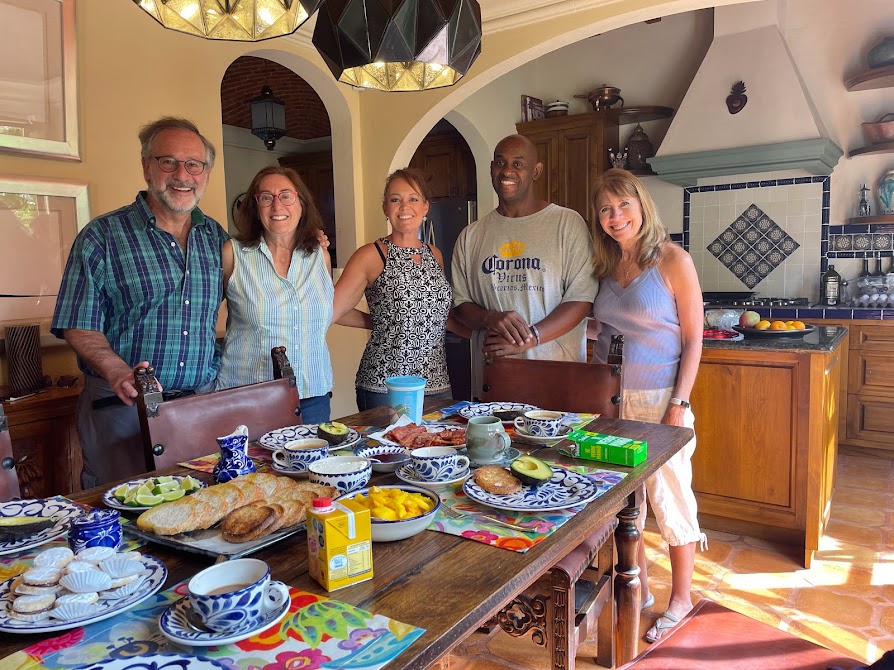 I've found that one of the best Facebook groups for travelers is GoWithLess – Nomadic Life, Early Retirement, Travel Hacking, House Sitting. The group's owners, Tim & Amy, are super-connectors and they really foster a welcoming community of travelers.
When I posted that I'd be in San Miguel de Allende, JoAnna, from the group, reached out to me personally. It turned out that our casita was only a 5-minute walk to where she and her husband, David, were house-sitting!
JoAnna's so pretty. (If she weren't married I would have tried to fix her up with Seth.) She's also very kind. She prepared such a lovely breakfast spread for us to enjoy. She and David are 100% nomadic and are regular trusted house-sitters.
JoAnna used to be an event planner and I see she has a real flair for creating a welcoming space for people to meet and mingle. She also invited another expat couple, Arturo and Phyllis, who have found their "Happy Place" in San Miguel de Allende.
Everyone at the breakfast had such interesting stories. Each one of them could write a book, filled with travel adventures and life's ups and downs. It's hard for me to even imagine being 100% nomadic and I had so many questions!
We spent 3 hours being entertained by the conversation, but Chris and I had planned to spend the afternoon at La Gruta, the Hot Springs Spa that was about a 20 minute drive away.
David thoughtfully offered to drive us and I was all for that! Not only did it save us an Uber-ride, it meant we could keep hearing about David & JoAnne's fascinating life. And we had ChiChi in the seat behind us, excited to be on a car-ride!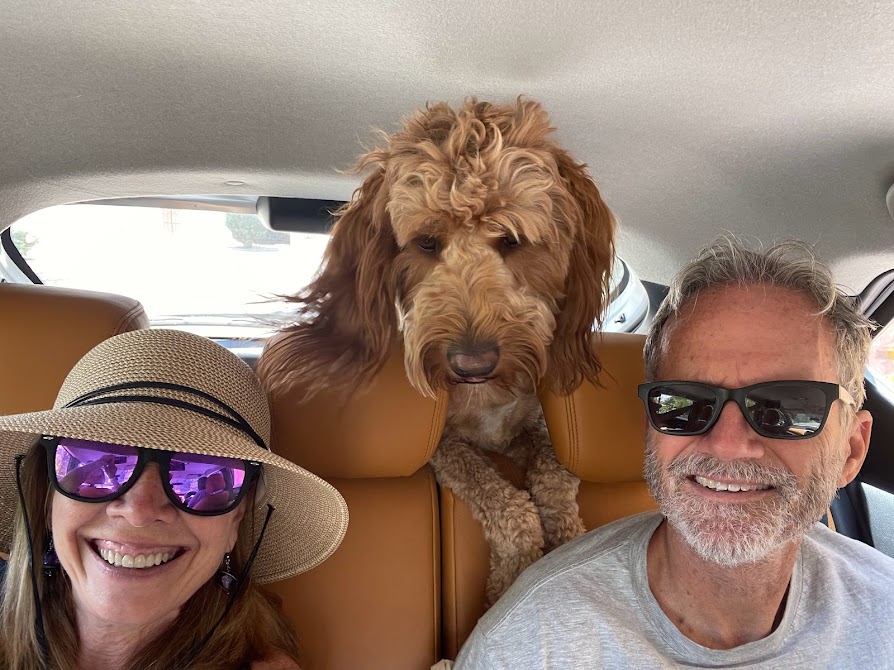 A couple days later, we met up with an Australian couple, Vic and Kathy, thanks, again, to the Go with Less group. Kathy suggested meeting up at Mercado del Carmen which offered a variety of restaurants, like a food court.
Vic and Kathy, like JoAnna and David, were full-time nomads using Trusted House-sitters for much of their lodging. We all had been members of the Hash House Harriers and all the reminiscing has motivated me to check into rejoining. I hadn't realized that Chris was also an avid Harrier and even started a club I think in Toulouse, France!
We told Vic and Kathy that we were going to go hot-air ballooning and Vic passed along this YouTube video that they had made! Wow! Vic is an awesome videographer!
Vic and Kathy also recommended Hanks for dinner and told us to look for a big, bald guy called, "Fish" who always was at the bar and played Water Polo.
We went to Hanks that night, and though we didn't find "Fish," we had a delicious dinner and ended the evening with a magical microadventure dance-move!
Full set of Microadventures in Mexico City / San Miguel de Allende:
Please follow and like us: